Graduates, their parents and members of the public have started collecting signatures to petition president Uhuru Kenyatta to waive all outstanding Higher Education Loans Board (HELB) loans
The petitioners in their request, argue that in the past, the government has waived loans for several institutions and called on the Kenyatta's administration to consider doing the same to those who owe HELB money."To the best of our knowledge, this matter is not pending before any court of law, or constitutional or legal body," they stated in the petition. "Therefore, your humble petitioners pray that the president of the republic of Kenya waivers all outstanding HELB loans, interests and penalties to enable young people start life without baggage."Though they appreciate the fact that HELB has played a key role in educating Kenyan children, many were unable to service the loans after the government ceased guaranteeing jobs to graduates since 1989.
"It is the responsibility of the government to create employment for its people. But from 1989, the government ceased to guarantee jobs to the graduates," they stated.They said the poor economy and the doubling of interest on HELB loans have complicated things further. The youth say they are unable to secure credit for startups due to arrears in HELB loans and many parents are unable to assist children with paying the loans. Their coordinator Waithira Maruru said many of those who have not yet paid HELB loans are listed in the Credit Reference Bureau (CRB) making it difficult for them to access loan products from any financial facility in the country.
She said they are targeting to collect at least 10,000 signatures and present the petition to the president through the National Government Administration officials. She said they expect to have completed collecting the signatures this week and present the petition to Nyeri County Commissioner David Kipkemei to present it to the president.About a week ago, HELB in a notice had threatened to name and shame HELB loans defaulters countrywide who owe the government Sh50 billion. The board had given defaulters 30 days to commit to repayment or risk being published.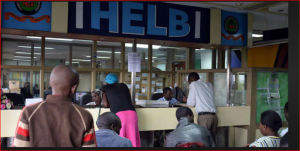 (Visited 56 times, 1 visits today)