A Kisumu Court has declined to stop the forthcoming Kisii University graduation ceremony, pending the full hearing of a petition filed by three students.
The students want the graduation ceremony stopped because their names are not among the graduands over missing marks.Kisumu High Court judge Justice Fred Ochieng dismissed part of the students' application seeking to halt the ceremony slated for December 20, 2019, until the case was heard.Justice Ochieng said that canceling the graduation would inconvenience a large number of students that had prepared for it.Mildred Mbita, Rachel Nyabola, and Lillian Juma failed to graduate last year and wanted to be included in this year's list.They accused the University of withholding their marks and denying them a chance to graduate.Juma, however, withdrew her petition after she complied with the university order to do a supplementary examination.
Mbita and Nyabola held their ground claiming that they had cleared their fees as per the requirements of the university, attended all their classes, registered for their exams and sat for all their CATs and end semester examinations.They also claimed that when clearing with the university in 2018, the academic registrar declined to clear them saying that they had incomplete academic units.The duo told the court that they followed up their respective lecturers who confirmed submitting the marks.As of now, they have four missing marks after eight were sorted by the university. They asked the court to compel Kisii University to release the marks.They also want the university to release all their academic testimonials including diploma certificates and all original transcripts that touched on the missing marks and confirm claims that they never sat for their exams.The judge ordered the university to file a replying affidavit over the missing marks by Monday.The case will be heard on December 3.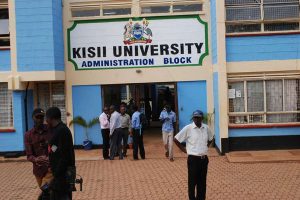 (Visited 236 times, 1 visits today)