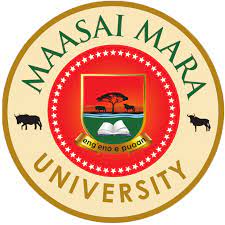 MAASAI MARA UNIVERSITY
REGULAR UNIVERSITY EXAMINATIONS 2013/2014 ACADEMIC YEAR
SECOND YEAR FIRST SEMESTER
SCHOOL OF BUSINESS AND ECONOMICS
MASTER IN BUSINESS MANAGEMENT
COURSE CODE: MBM 825
COURSE TITLE: MANAGEMENT ACCOUNTING
DATE: 14TH APRIL, 2014 TIME: 2.00 – 5.00P.M.
INSTRUCTIONS TO CANDIDATES
SECTION A is compulsory
Answer any three questions in SECTION B
This paper consists of 5 printed pages. Please turn over.
SECTION A
QUESTION ONE 25 MARKS COMPULSORY
Bronfen brenner Co. uses a standard cost system for its single product in which variable overhead is applied on the basis of direct labor hours. The following information is given: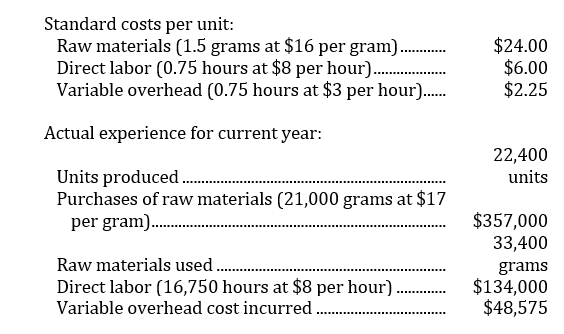 Required:
Compute the following variances for raw materials, direct labor, and variable overhead, assuming that the price variance for materials is recognized at point of purchase:
a. Direct materials price variance. (5 Marks)
b. Direct materials quantity variance. (5 Marks)
c. Direct labor rate variance. (5 Marks)
d. Direct labor efficiency variance. (3 Marks)
e. Variable overhead spending variance. (3 Marks)
f. Variable overhead efficiency variance. (4 Marks)
SECTION B
QUESTION TWO
Bramble Corporation is a small wholesaler of gourmet food products. Data regarding the store's operations follow:
• Sales are budgeted at $340,000 for November, $320,000 for December, and $310,000 for January.
• Collections are expected to be 80% in the month of sale, 16% in the month following the sale, and 4% uncollectible.
• The cost of goods sold is 75% of sales.
• The company purchases 60% of its merchandise in the month prior to the month of sale and 40% in the month of sale. Payment for merchandise is made in the month following the purchase.
• Other monthly expenses to be paid in cash are $24,000.
• Monthly depreciation is $15,000.
• Ignore taxes.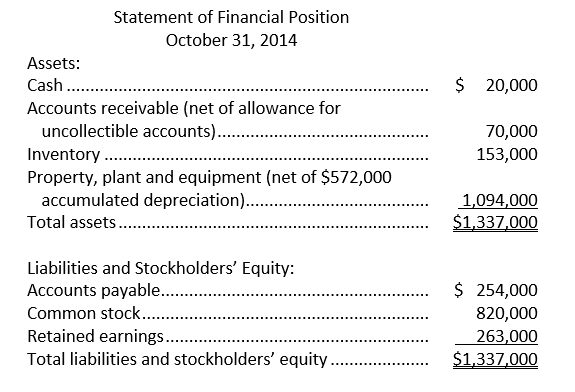 Required;
Compute the following for the month of December, 2014
a) Expected cash collections ( 4Marks)
b) Cost of merchandise purchases ( 4Marks)
c) Cash disbursements for merchandise purchases ( 3Marks)
d) excess (deficiency) of cash available over disbursements (4 Marks)
QUESTION THREE
Nissley Wedding Fantasy Company makes very elaborate wedding cakes to order. The owner of the company has provided the following data concerning the activity rates in its activity-based costing system: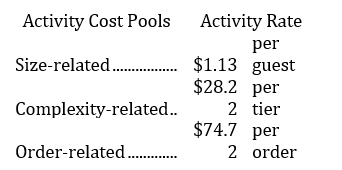 The measure of activity for the size-related activity cost pool is the number of planned guests at the wedding reception. The greater the number of guests, the larger the cake. The measure of complexity is the number of tiers in the cake. The activity measure for the order-related cost pool is the number of orders. (Each wedding involves one order.) The activity rates include the costs of raw ingredients such as flour, sugar, eggs, and shortening. The activity rates do not include the costs of purchased decorations such as miniature statues and wedding bells, which are accounted for separately.
Data concerning two recent orders appear below:

Required;
a. Assuming that all of the costs listed above are avoidable costs in the event that an order is turned down, what amount would the company have to charge for the Tijerina wedding cake to just break even?
( 5 Marks)
b. Assuming that the company charges $465.39 for the Twersky wedding cake, what would be the overall margin on the order?
( 5 Marks)
c. Suppose that the company decides that the present activity-based costing system is too complex and that all costs (except for the costs of purchased decorations) should be allocated on the basis of the number of guests. In that event, what would you expect to happen to the costs of cakes? ( 5 Marks)
QUESTION FOUR
In light of Today Management Accounting Environment, Explain each of the following in details, giving relevant example where necessary;
a) Just In Time (JIT) (5 Marks)
b) Six Sigma ( 4 Marks)
c) Globalization of Commerce ( 3 Marks)
d) Lean Production ( 3 Marks)
QUESTION FIVE
Explain each of the ethical standards required of a Management Accountant according to The American Institute of Management Accountants'
( 15 Marks)
(Visited 67 times, 1 visits today)