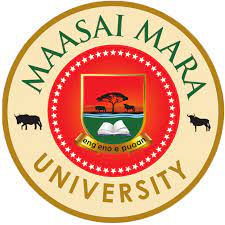 MAASAI MARA UNIVERSITY
REGULAR UNIVERSITY EXAMINATIONS
2014/2015 ACADEMIC YEAR
FIRST YEAR FIRST SEMESTER
FOR THE COMMON COURSE
COURSE CODE: IRD 100
COURSE TITLE: COMMUNICATION SKILLS
DATE:1ST SEPTEMBER , 2015 TIME: 8.30AM – 10.30AM
INSTRUCTIONS TO CANDIDATES
Answer ALL the Questions.
This paper consists of 5 printed pages. Please turn over.
1. STUDY SKILLS (10MARKS)
a) A fellow student argues that joining a study group is a waste of time:
i) Advise him on the benefits of being a member of a study group. (2marks)
ii) Cite two characteristics of a time-wasting study group. (2marks)
b) Discuss the fact that a student's study success depends on their personal organizational skills. (3marks)
c) An efficient student sets goals while studying, outline any three ways of ensuring that the goals are effective. (3marks)
2. LISTENING SKILLS (10MARKS)
a) After attending a two-hour public lecture, your friend is unable to recall either the topic or the main points:
i) Suggest three possible reasons for the above scenario. (3marks)
ii) Provide two preventive measures for the above scenar(2marks)
b) "Active listening shortens revision time." Justify the claim using practical illustrations. (5marks)
3. READING SKILLS (10MARKS)
Read the following passage and answer the questions after it.
I don't know who came up with the idea for giving feedback using the sandwich technique, but it's manipulative and under¬mines your ability to be straight forward. The sandwich model sug¬gests that when you're giving feedback you should couch the negative between two pieces of positive feedback. Fageddaboudit. It doesn't work. It may be easier for you, but not for the recipient, I hesitate to give you an example of how it works because 1 don't want you to get the idea you should include it in your communica¬tion skills repertoire, but for the sake of clarity, here's what it would sound like:
Greg, I'd like to talk to give you some feedback about your recent work on the Jackson project. I really like how you spent consid¬erable time up front building a relationship with the client. They seemed to appreciate it. On the other hand, I would have liked you to put more time into doing the research necessary to create a robust proposal to them. Overall, I'd say you're doing a good job of managing the client's expectations.
Now, what is Greg going to walk away with? He's going to be asking himself if he's doing a good job or not. Even though the last message was a positive one, the middle, more critical message, is most likely what he's going to focus on. Separating positive and negative feedback is a much more effective way of delivering a clear message of expectations and reinforcing appropriate performance. Giving critical feedback is difficult no matter how skilled or prac¬ticed you are at it. It's one reason why I use the seven-to-one rule of feedback.
Women in particular often don't like being the bearers of bad news In fact, most of us avoid it like a ten-pound box of chocolate, To be effective, feedback has to be specific, behavioral, and – on positive results. A better way to approach Greg would been as follows:
Greg, I'd like to give you a little feedback about the Jackson proposal. It seemed to me that the research you presented wasn't thorough enough and left a number of questions unanswered for the client [specific]. In the future, I'd like you to con¬duct a more thorough review of what the competition is doing and contrast the benefits of using our process and people [behavioral].
This would enable the client to make an informed decision in a shorter period of time.
a) Provide a suitable title for the passage. (1mark)
b) Explain the writer's possible meaning of the term "Faggedaboudit" (1mark)
c) Make notes on the writer's reasons against the technique. (3marks)
d) Re-write each of the following sentences by replacing the pronouns with their corresponding nouns or noun phrases:
i) It doesn't work. (1mark)
ii) In fact, most of us avoid it like a ten-pound box of chocolates. (2marks)
e) List two reading habits that would slow down one's reading speed. (2marks)
4. LIBRARY SKILLS (10MARKS)
a) The presence of a book in the library does not guarantee its being borrowed by anyone in need. Justify this statement with illustrations. (3marks)
b) Discuss the extent to which the division of the library into different sections enhances its effective use. (4marks)
c) Using the APA style, write an end reference for the following information. (3marks)
Title : Ulimate CV: Trade secrets from a recruitment insider
Author : Rowan Manahan
Year : 2004
ISBN : 978009129244
Publisher: Vermilion, London
5. EXAMINATION SKILLS (10MARKS)
a) Distinguish between assess and discuss as instructional verbs (2marks)
b) Billy felt adequately prepared for an examination but when the results were out, he had performed way below his expectations. Explain five examination flaws Billy might have been guilty of. (5marks)
c) State three rights of an examinee in an examination room. (3marks)
(Visited 39 times, 1 visits today)