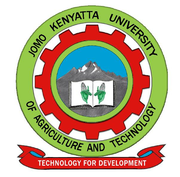 W1-2-60-1-6
JOMO KENYATTA UNIVERSITY OF AGRICULTURE AND TECHNOLOGY
UNIVERSITY EXAMINATIONS 2016/2017
SECOND YEAR SECOND SEMESTER EXAMINATION FOR THE DEGREE OF BACHELOR OF SUPPLY CHAIN MANAGEMENT
HPS 2303: BUSINESS LAW II
DATE: JUNE, 2017 TIME: 2 HOURS
INSTRUCTIONS: 1. ANSWER QUESTION ONE (COMPULSORY) AND ANY
OTHER TWO QUESTIONS
2. ILLUSTRATE YOUR ANSWERS WHERE APPLICABLE
WITH RELEVANT EXAMPLES
3. DECIDED CASE AND STATUTORY PROVISIONS
QUESTION ONE: 30 MARKS
a. Lilian a well known interior designer has approached Moffat a respected
electrician to procure a lamp which she saw a sample of in Ebay. She requires that the lamp be built with specific materials, be of a specific height for purposes of use in her client's living room. Moffat agrees and confirms that he will be in a position to make a similar lamp to that one of the print out. He confirms that he has the materials specified to make the lamp. The parties enter into a written agreement. Some of the express terms included in the agreement are time shall be of essence; payment shall be made once good are delivered that is on 30th June 2017. The parties have agreed to be bound by the implied conditions and warranties as spelt out in the sale of Goods Act chapter 55 Laws of Kenya.
Briefly discuss the conditions and warranties that are implied under the sale of Goods Act which will be applicable to the agreement between Lilian and Moffat. (10 marks)
b. Generally speaking every person, legal or natural has the capacity to contract. However, the law of contract limits on varying degrees the contractual capacity of some persons. State such four persons and discuss how their capacity is limited. (10 marks)
c. Daicy is a scientist and at the some time a business lady. She is engaged in the field of health care. She recently invented a medication for the cure of HIV/AIDs. She approaches you and seeks your advice on how she can go about ensuring her product moves from the manufacturer to the end user in the most efficient way. During your discussions you realize that this invention being an intellectual property right. Daisy has not taken the necessary steps to protect her rights under the laws of Kenya. She inform her that it is necessary that she patents her invention especially the formular. Seeing that you well versed about intellectual property law in Kenya. She asks you what attributes must her invention possess to be protected under the laws on patents in Kenya.
Highlight an discuss the four attributes that any invention must posses for it to be cable of being awarded a patent under the laws of Kenya.
(10 marks)
QUESTION TWO
The law of Agency in Kenya is based on the rules of common law which have been developed by the English courts. The decision of the English courts are the primary reference material for the Kenyan courts and law teachers in Kenya regarding the principles and rules which constitute the law of agency in Kenya.
Using relevant examples, state and elaborate on the five ways through which an agency may be created in Kenya. (20 marks)
QUESTION THREE
Anderson and Martin are close friends. They are very business oriented. They are very business oriented. They are always open and will to interact with other business like minded people. A few months ago they met Vanessa who is in the business of fashion and design. Vanessa was looking to expand her business and she was lucky enough to meet Anderson and Martin at the Barclays Club Business Forum. The three exchanged contacts and agreed to meet and discuss business. Early January they met and formed a company that was engaged in the business of transportation. The list of the business is that the three formed a company bought a Toyota Corolla KCK 540D and registered it with UBER- a taxi service provider. They employed a driver. Business has been good. As a matter of fact they are making profits. Vanessa was hoping that joint business venture would generate income that will be sufficient enough to use to expand her fashion and design business. Vanessa decides to take up a loan with an established bank. The bank asks for collateral and two guarantors. Collateral she has however she needs two guarantors. She approaches Martin and Anderson to be her guarantors. The two men being gentlemen do not say no immediately but ask her to give them time to
think about it and expect feedback in three days. Anderson and Martin are at a loss on what to do.
However, they remember that back in their campus days you scored very highly in Business Law Course. They decide to approach to remind them some of their rights under a contract of guarantee.
Based on the above:-
a. Highlight four (4) rights that a guarantor has against the debtor. (8 marks)
b. Highlight six ways that a guarantor may be discharged from obligations under a contract of guarantee. (12 marks)
QUESTION FOUR
Using examples explain the following terms:-
a. The doctrine of The Moorcock (1889), 14.P.D64 (5 marks)
b. Quantum Meruit (5 marks)
c. Agency Of Necessity (5 marks)
d. Exemption Clause (5 marks)
(Visited 84 times, 1 visits today)