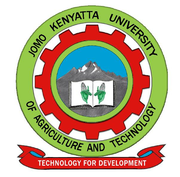 W1-2-60-1-6
JOMO KENYATTA UNIVERSITY
OF
AGRICULTURE AND TECHNOLOGY
University Examinations 2013/2014
FIRST YEAR FIRST SEMESTER EXAMINATION FOR THE DIPLOMA IN INFORMATION TECHNOLOGY
DIT 0104 : DESKTOP PUBLISHING
DATE: AUGUST 2013 TIME: 1½ HOURS
INSTRUCTIONS: ANSWER QUESTION ONE (COMPULSORY) AND
ANY OTHER THREE QUESTIONS.
QUESTION ONE (30 MARKS)
(a) Define the following terms: [12 marks]
(i) Publishing.
(ii) Editing.
(iii) Design.
(iv) Styles.
(v) Kerning.
(vi) Cropping.
(vii) Authoring.
(viii) Resolution.
(b) What is desktop publishing? [3 marks]
(c) State and explain the advantages and disadvantages of DTP.
[8 marks]
(d) List at least seven types of desktop publications. [7 marks]
QUESTION TWO (10 MARKS)
Outline the steps required to accomplish the following tasks: [10 marks]
(a) Save a DTP publication for the first time.
(b) Open an existing publication.
(c) Change the frame fill colour.
(d) Insert a clip art into a publication.
(e) To restrict editing in a publication.
QUESTION THREE (10 MARKS)
List the five text wrapping buttons and state their uses. [10 marks]
QUESTION FOUR (10 MARKS)
List the toolbars in DTP and state their functions. [10 marks]
QUESTION FIVE (10 MARKS)
List at least ten names of the icons contained in the Windows 2007 Publisher Object TOOLBAR. [10 marks]
(Visited 93 times, 1 visits today)