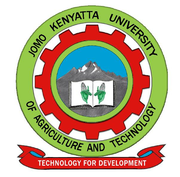 W1-2-60-1-6
JOMO KENYATTA UNIVERSITY
OF
AGRICULTURE AND TECHNOLOGY
University Examinations 2013/2014
END OF SEMESTER EXAMINATION FOR THE DIPLOMA IN INFORMATION TECHNOLOGY
DIT 0101 : INTRODUCTION TO COMPUTERS
DATE: AUGUST 2013 TIME: 1½HOURS
INSTRUCTIONS: ANSWER ANY THREE QUESTIONS.
QUESTION ONE
(a) Differentiate the following terms: [8 marks]
(i) Computer and computer terms.
(ii) Hardware and software.
(iii) Impact printers and non-impact printers.
(iv) System software and application software.
(b) Give reasons why smaller computers like laptops are more expensive compared to desktops. [3 marks]
(c) Define the following: [5 marks]
(i) Port.
(ii) Booting process.
(iii) Partitioning.
(iv) ROM
(v) Byte.
(d) Provide/indicate two areas where computer is employed in our daily life. [2 marks]
(e) Briefly explain using appropriate example, what you understand by the term "internet browser". [2 marks]
QUESTION TWO
(a) Using a well labeled diagram, block diagram, identify and explain how computer components contribute to good working order of the computer system. [10 marks]
(b) Explain what is an operating system and state two of its functions.
[3 marks]
(c) Give three advantages of using Linux operating system.
[3 marks]
(d) List two text editors that are used in Linux operating system (command-line). [2 marks]
(e) State four examples of computer output devices. [2 marks]
QUESTION THREE
(a) Describe the following terms as used in internet technology:
[5 marks]
(i) Internet.
(ii) Website.
(iii) E-mail
(iv) Web cookie.
(v) Computer network.
(b) Explain three types of computer networks. [6 marks]
(c) What do you understand by the term computer virus? Give two examples. [2 marks]
(d) Explain two significance of computer networking. [2 marks]
(e) Computers have evolved through many generations over the years. Explain five generations the computer have evolved through.
[3 marks]
QUESTION FOUR
(a) File system is one of the major features in Windows operating system.
(i) State the differences between a file and a directory (folder).
[2 marks]
(ii) Describe any possible method of creating a new folder.
[3 marks]
(b) Explain six file attributes in Windows. [6 marks]
(c) Anytime you right-click "my computer icon" and choose properties option from the menu, it triggers the properties Window to open. In reference to an opened "My computer properties window", provide a brief explanation on the following terms: [4 marks]
(i) Processor.
(ii) Installed memory (RAM).
(iii) System type.
(iv) Computer name.
(d) State any classification of computers based on their capacity and size. [2 marks]
(e) Write the following abbreviations in full: [3 marks]
(i) IP
(ii) WWW
(iii) USB
(Visited 247 times, 3 visits today)