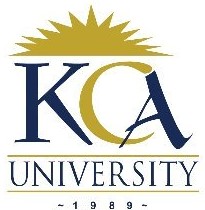 UNIVERSITY EXAMINATIONS: 2020/2021
EXAMINATION FOR THE DIPLOMA IN INFORMATION
TECHNOLOGY
DCU 201: COMPUTER APPLICATION SOFTWARE
DATE: DECEMBER, 2021 TIME: 2 HOURS
INSTRUCTIONS: QUESTION ONE IS COMPULSORY, CHOOSE TWO OTHER
QUESTIONS
QUESTION ONE (20 marks) Compulsory
a. The following is an extract from a spreadsheet program use to determine the mean and
remarks of scores obtained in CAT 1 and CAT 2 tests. Use it to answer the questions that
follows.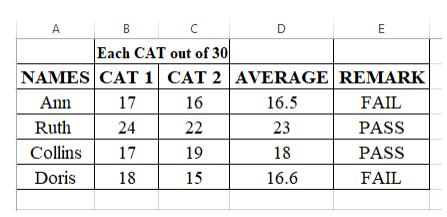 A remark of "PASS" is assigned to a student who obtains an average of 17 and above and
"FAIL" if otherwise. State formulae that would be used to determine;
i. The mean for Ann; (2 Marks)
ii. Remark for Ann; (2 Marks)
b. Distinguish between a form and a report as used in database (4 Marks)
c. Explain FOUR differences between off-the-shelf and tailor made software's (4 Marks)
d. Discuss any FOUR text wrap options that one can may apply on graphics inserted on a
word processing document. (4 Marks)
e. Edith prepared a presentation with slide transition timing enabled. Explain TWO reasons
for this. (4 Marks)
QUESTION TW0 (15 marks)
a. Discuss FOUR benefits of computerized systems over manual based systems (4 Marks)
b. Describe TWO advantages of using a mouse over a keyboard as an input device.
(2 Marks)
c. Describe any THREE characteristics of a relational database. (3 Marks)
d. Discuss the effects of overusing each of the following in a presentation program.
(6 Marks)
(i) Slide Transitions
(ii) Standard Clipart
(iii) Sound Effects.
QESTION THREE (15 marks)
a. Using examples, explain the following terms as used in internet programs (4 Marks)
(i) Internet Service Provider
(ii) Web browser
b. Irene applied the following criteria in a query
(i) #26/11/2021#;
(ii) <date()-12.
Describe the expected output for each of the criteria in (i) and (ii) (4 Marks)
c. Peter, an IT specialist at D&S Company intends to purchase word processing software for
the company. Describe THREE factors that he should consider. (3 Marks)
d. Explain FOUR features of the graphical user interface as used in computer system.
(4 Marks)
QUESTION FOUR (15 marks)
a. Explain any FIVE key functions of a computer operating system (5 Marks)
b. A company with several branches opted to use teleconferencing technology to conduct
meetings of employees in all the branches. Explain TWO benefits that the company
would achieve from this approach. (4 Marks)
c. Explain the term "hyperlink" as used in internet application programs. (2 Marks)
e. With the aid of a diagram in each case, explain the following types of database models:
(4 Marks)
(i) Hierarchical
(ii) Network
(Visited 57 times, 1 visits today)