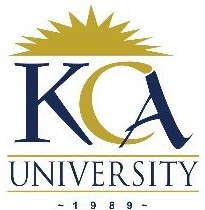 UNIVERSITY EXAMINATIONS: 2021/2022
EXAMINATION FOR THE DEGREE OF BACHELOR OF SCIENCE IN
INFORMATION TECHNOLOGY/ BACHELOR OF BUSINESS IN
INFORMATION TECHNOLOGY/BACHELOR OF SCIENCE IN APPLIED
COMPUTING
BAC 2202/BIT 2305 /BBIT 204: ICT PROJET MANAGEMENT
FULL TIME/PART TIME/DISTANCE LEARNING
DATE: DECEMBER, 2021 TIME: 2 HOURS
INSTRUCTIONS: QUESTION ONE IS COMPLUSORY, CHOOSE TWO OTHER
QUESTIONS
QUESTION ONE (20 MARKS)
a) You have decided to apply resource leveling to a project due to a critical resource being
available only at certain times. Briefly explain what resource leveling and how you will use
it in the project (5 Marks)
b) You are a consulting project manager and have been contracted by an investment bank to
run a large information technology project that is expected to last 15 months. During the
Direct and Manage Project Work process, you discover that several regulatory requirements
have not been addressed in the project management plan. Failure to meet these requirements
could result in legal action against the company. However, implementing the technology to
comply with these regulations exceeds the budget and scope of the project, and could result
in the cancellation of the project. As a project manager what are some of the critical issues
that you will undertake? (7 Marks)
c) An accepted deadline for project approaches. However, the project manager realizes only
85% percent of the work has been completed. The project manager then issues a change
request. What should the change request authorize? Explain (4 Marks)
d) "There are only two ways of succeeding in a project, doing the right project and doing a
project in the right way". Explain four key factors for successful projects (4 Marks)
QUESTION TWO (15 MARKS)
a) In an ongoing project, the project sponsor and the project manager of the performing
organization are having conflicts. Comment on such situation and what your input would be
(5 Marks)
b) The Mobicom Corporation is in the design phase of a system project. The project manager
wants to develop a network analysis diagram to plan the activities of designing the system
outputs. The activities are as follows.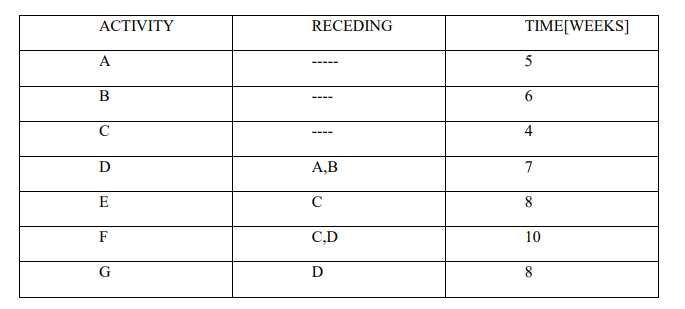 Required
i Draw a network diagram for the design phase (5 Marks)
ii What is the critical path (3 Marks)
iii What is the project duration (2 Marks)
QUESTION THREE (15 MARKS)
a) Elaborate on the implication of changes in project constraints on the management of the triple
constraints triangle (6 Marks)
b) Many projects that have been started using donor funds normally collapse when the donors
withdraw the funding. Evaluate the common problems the organizations that implement them
face when the projects are not complete on time (5 Marks)
c) Describe the need for incorporating changes during project development. (4 Marks)
QUESTION FOUR (15 MARKS)
a) You are the project manager of a large petroleum company and in the process of writing the
project charter for your project sponsor. Identify the issues that you will need to integrate in the
project charter (5 Marks)
b) Expound on how Information Technology is been used to enhance project resource and
scheduling activities in an organization (5 Marks)
c) Corporates and governments all over the world are keen on conducting monitoring and
evaluation in projects. Identify the implications of failing to manage politics both external and
internal in ICT based projects (5 Marks)
(Visited 82 times, 1 visits today)