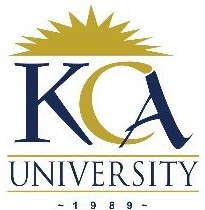 UNIVERSITY EXAMINATIONS: 2021/2022
EXAMINATION FOR THE BACHELOR OF SCIENCE IN
INFORMATION TECHNOLOGY/ APPLIED COMPUTING
BIT 1309/ BAC 2206/ BISF 2206: FINANCIAL MANAGEMENT FOR IT
FULL TIME/ PART TIME/ DISTANCE LEARNING
ORDINARY EXAMINATIONS
DATE: DECEMBER, 2021 TIME: 2 HOURS
INSTRUCTIONS: Answer Question One and any Other Two Questions
Question one
a) "Qualitative characteristics are the attributes that make information provided in financial
statements useful to users".
Briefly explain five main qualitative characteristics of financial statements. (5 Marks)
b) Mr J Mwero, a wholesale merchant had the following balances in his ledger at 1 March 2015.
Cash in hand Sh.3,000;
Bank overdraft Sh.7,000;
Motor vans Sh.56,000;
Furniture and Equipment Sh.11,900;
Creditor (R. Osoro) Sh.4,800;
Debtor (B. Anyumba) Sh.3,000;
Capital Sh.20,000;
Loan from Kokise Investment Ltd. Sh. 42,100.
At the end of the month, Mr. J Mwero was able to provide the following information from his
records:
Cash Transactions:




Other Transactions:
March 5: Purchase goods for Sh.16,000 from R Osoro on credit
March 11: Sold goods to B Anyumba on credit Shs.50,000
March 13: Bought office chair for Sh.2800 on credit from United Furniture mart
March 15: B Anyumba returned goods to us worth Sh.1500
Required,
a) i) Open the relevant ledger accounts
b) ii) A three column cash book.
c) Balance the accounts and extract a Trial Balance as at 31March 2015. (15 Marks)
QUESTION TWO
In preparing the accounts of your company you are faced with a number of problems. These are:
a) The long-term future success of the company is extremely uncertain.
b) At the year-end, an amount is outstanding for water that has been consumed during the
accounting period.
c) During the year, the company purchased Sh.1000 worth of biro pens these had all been issued
from stock and were still in use at the end of the year.
d) A debtor who owes a large amount to the company is rumoured to be going into liquidation.
e) The company has had a poor year, and the directors believe that a more balanced results could
be presented if a LIFO (last-in-first-out) stock valuation method was adopted, instead of the
present FIFO (first-in, first-out) method.
Required:
State which accounting concepts the accountant should follow in dealing with each of the above
problems, and explain briefly what each concept means. (10 Marks)
ii) The following categories of people are recognized as users of the information contained in
financial statements:
▪ Owners
▪ Financial analysts
▪ Lenders
▪ Government
▪ Employees
For each of the above users of financial statements, identify the kind of information they
may require and why they require it. (5 Marks)
QUESTION THREE
Czar Hlestakov has a franchise with an international tyre manufacturer to supply its products in
Kenya. He makes the accounts of his business operations to 30 April. As at 30 April 2020, the
following trial balance was extracted from his books of account.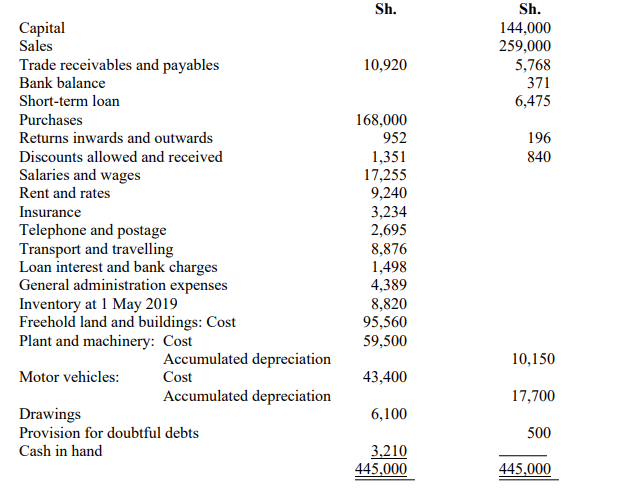 The following additional information has been provided:
1. Stock of tyres as at 30 April 2020 was valued at Sh. 10,276.
2. Prepaid insurance as at 30 April 2020 amounted to Sh. 385.
3. Telephone bills unpaid as at 30 April 2020 totalled Sh. 511.
4. Accrued wages of Sh. 2,240 is to be provided.
5. The depreciation on fixed assets is provided as follows:
(i) Plant and machinery 20% on reducing balance basis.
(ii) Motor vehicles 25% on straight line basis
6. The provision for doubtful debts is to be adjusted to 10% of the balance of trade receivables.
Required:
a) Statement of profit or loss (income statement) for the year ended 30th April 2020.
b) A statement of financial position as at 30th April, 2020 (15 Marks)
QUESTION FOUR
When the books of account are prepared, certain errors may be made. The errors may involve
inaccurate additions or subtractions (casting errors); failure to follow the rules of double entry or
recording items in the wrong books. The errors may be revealed at the time of preparing the trial
balance. However, others may not be revealed by the trial balance.
a) You are required to identify and explain the following type of errors.
i) A sale of goods £678 to J Harris had been entered in J Hart's account.
ii) The purchase of a motor van £3,800 had been entered in error in the Motor Expenses
account.
iii) A sale of £221 to E Fitzwilliam had been entered in the books, both debit and
credit, as £212.
iv) Commission received £257 had been entered in error in the Sales account.
v) A receipt of cash from T Heath £77 had been entered on the credit side of the
cashbook and the debit side of T Heath's account.
vi) A purchase of goods £189 had been entered in error on the debit side of the
Drawings account.
vii) Discounts Allowed £366 had been entered in error on the debit side of the
Discounts Received account. (7 Marks)
b) Computerised accounting systems have largely replaced manual systems in
financial reporting by business organisations.
Identify and explain four benefits and four demerits of using computerised
accounting systems in a modern business environment (8 Marks)
(Visited 30 times, 1 visits today)