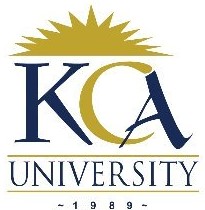 UNIVERSITY EXAMINATIONS: 2017/2018
EXAMINATION FOR THE DEGREE OF BACHELOR OF SCIENCE IN
INFORMATION TECHNOLOGY/ BUSINESS INFORMATION
TECHNOLOGY/APPLIED COMPUTING
BIT 1109/BBIT 110/BAC 1101: COMPUTER ORGANIZATION AND APPLICATIONS
DATE: AUGUST 2018 TIME: 2 HOURS
Instructions
o Answer question ONE and any other TWO.
o Question One carry 30 Marks, others 20 Marks each.
QUESTION ONE
a.) Name three things which are contained on the motherboard of a computer.
(3 Marks)
b.) Explain what the four main sections of a computer are, and what they do.
(8 Marks)
c.) Explain the following terms and provide an example of each type:
i.) Batch processing
ii.) Real time processing
iii.)Transaction processing
iv.)Interactive processing
@ 2 Marks = 8 Marks
d.) Discuss Motherboard Form Factors outlining the differences between them
(2 Marks)
e.) Match each of the following software types with one of the statements shown below.
i.) Operating system (1 Mark)
ii.) Application software (1 Mark)
iii.)Utilities software (1 Mark)
iv.)Programming software (1 Mark)
1. Software which provides the computer with a
set of instructions it can understand.
3. Software which allows end users to perform
and fulfil their tasks.
2. A program that controls hardware and
software.
4. Software which manages system resources.
f.) Name the following components in a computer system.
i.) A circuit board which connects most of the other devices on a computer.
(1 Mark)
ii.) It takes digital data from the computer system and turns it into visible images.
(1 Mark)
iii.)It turns digital computer data into analogue audio signals. (1 Mark)
g.) Describe one benefit of each the following types of software:
i.) Hosted software (1 Mark)
ii.) Locally installed software (1 Mark)
QUESTION TWO
a.) Consider the excel snapshot below. If a user wanted to do the following:
Check if the number in cell A2 is less than or equal to 100, Print 'Within Budget' in cell
B3 if the value in cell A2 is less than or equal to 100, Print 'Over Budget' in cell B3 if the
value in cell


A2 is greater than 100, how will the formula appear?


6 Marks
b.) Consider the following excel snapshot.
If a user wanted to consolidate data from cell A2 in worksheets Sales, HR and Marketing,
and have the data consolidated in cell A3 of the worksheet Consolidation, what would the
user have to type?
6 Marks
c.) Text entered into the word processor will automatically flow from one line to the next.
Name the function of the word processor that does this.
3 Marks
d.) Mercy has used the spell check feature of her word processor. Explain how a spell
checker works.
5 Marks
QUESTION THREE
a.) The First line of your document contains the word "John". List TWO ways to replace the
word "John" with the word "Mary"
2 Marks
b.) You have a document with 10 paragraphs. How would you interchange the third and
seventh paragraph?
3 Marks
c.) What is the difference between centered text and fully justified text?
2 Marks
d.) You have a document with 10 paragraphs on one page. What is the most efficient way to
make 6-10 paragraphs as page two of you document?
2 Marks
e.) For the submission of your document, you are required to use 15'' as the left margin and
05'' as the right margin. How would you set the margins as required?
3 Marks
f.) The heading of you document is SAKU ELECTION AGENDA
i.) How would remove the underline?
2 Marks
ii.) List TWO formatting features used besides underlining and bolding
4 Marks
g.) In your document, you the page number to be inserted automatically at the top right of
each page of the document. How would you do this?
1 Marks
h.) How would you print the content of a page across the length of the paper?
1 Marks
QUESTION FOUR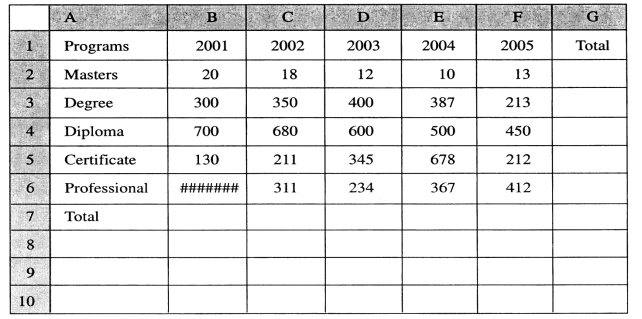 a.) In cell B6, you entered a number and "#######" appears in the cell Why did this occur
and how would you make the actual number you entered appear in the cell?
2 Marks
b.) State the range that contains the name of the various programs offered by the university
1 Marks
c.) The numbers who pursued Diploma program in 2002 is 608 and not 680. How would you
change the data?
2 Marks
d.) You want to compute the total number of student who pursued Masters program for the
period 2001-2005. State the formula you would use
3 Marks
e.) The Formula "=B#/$B$10" was inserted in a cell. What is purpose of $B$10 in the
formula
3 Marks
f.) For good presentation, you are required to right-align the data in the range B1:G1. How
would you do this?
3 Marks
g.) The formula "=SUM(B2:B6)" was entered in a cell B7. The value in B4 was changed and
it was observed that the value in B7 changed. Why did this occur?
2 Marks
h.) The formula in cell B7 was copied to the range C7:F7. The values in the range C7:F7
were checked and found to be correct. Why did this occur?
2 Marks
i.) Explain how you would format all numeric values in the range, B7:F7 to that all
thousands are separated by commas.
2 Marks
QUESTION FIVE
a.) What kind of justification is used in this paragraph?
2 Marks
b.) Use the phrase Technology and Me as a title for this paragraph. What steps would you
take to place it above the paragraph and center it?
4 Marks
c.) How can you change the paragraph so that the second sentence is in a new paragraph?
2 Marks
d.) If you have successfully placed the second paragraph into a paragraph of its own, explain
how you would center-justify the entire paragraph
2 Marks
e.) Describe how you would move the entire second sentence to make it the first sentence
4 Marks
f.) Some words are misspelled in this paragraph. What feature of word processing would
you use to correct them?
2 Marks
g.) What steps would you take to change the line spacing in your two paragraphs from single
to double spacing?
4 Marks
(Visited 31 times, 1 visits today)