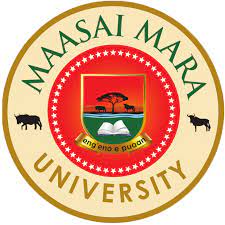 BBM 103 SUPPLIMENTARY EXAMS
Answer question ONE and any other THREE
QUESTION ONE
Given below is the Receipts and Payments Account of the popular club for the year ended 31st December, 1990: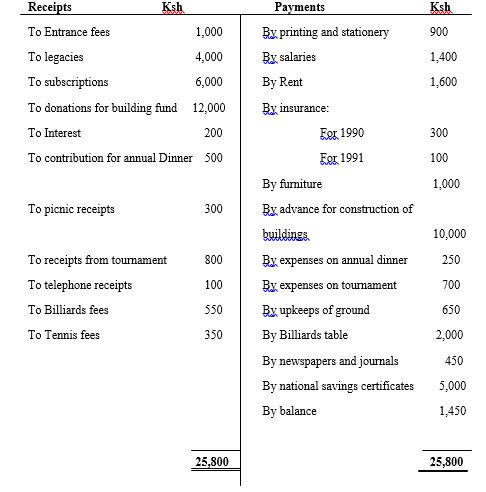 Additional information
1) Subscriptions include subscriptions for 1991, sh. 500
2) Subscriptions outstanding for current year Rs. 800 of which sh. 200 are considered doubtful.
3) 60% of the entrance fees are to be capitalized.
4) 12% National savings certificates were purchased on 1-7-90
5) Sundry persons owed sh. 200 for advertisement in club's year-book
6) Provide sh. 50 as depreciation on furniture
Prepare i) Income and Expenditure Account for the year ended 31st Dec, 1990; and
ii) Balance sheet as on that date
(25marks)
QUESTION TWO
You are to draw up an income statement for the year ended 31 December 2002, and a balance sheet as at the date from the following trial balance and details of Busia Traders Ltd.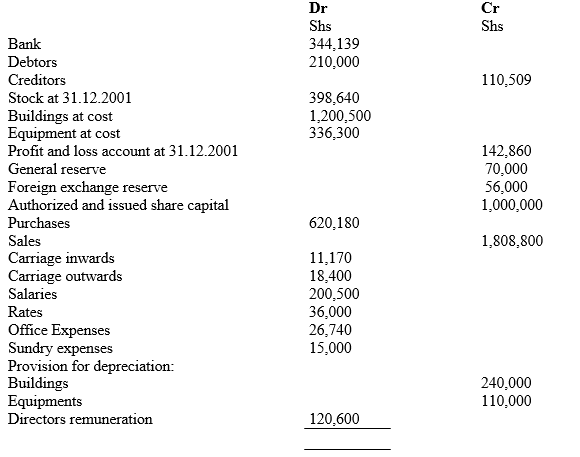 Additional Information
i) Stock at 31 December 2002 shs. 460,370
ii) Rates owing shs. 15,000, office expenses owing shs. 1,700
iii) Dividend of 10 per cent was proposed
iv) Transfer to reserves; general shs. 10,000, foreign exchange shs. 6,000
v) Depreciation on cost: buildings 5 per cent, equipment 20 per cent
(15marks)
QUESTION THREE
The following information relates to the rent income account in the books of a trader on the dates shown:
1.1.2004 31.12.2004
Shs. Shs.
Rent received in advance 8,000 19,200
Rent owing from tenants 28,800 22,400
Rent receiving during the year 518,400
Show the rent income account and the amount posted to the profit and loss account.
(15marks)
QUESTION FOUR
The following information is extracted from the books of A.B.C Company for the year ending 31st December 1989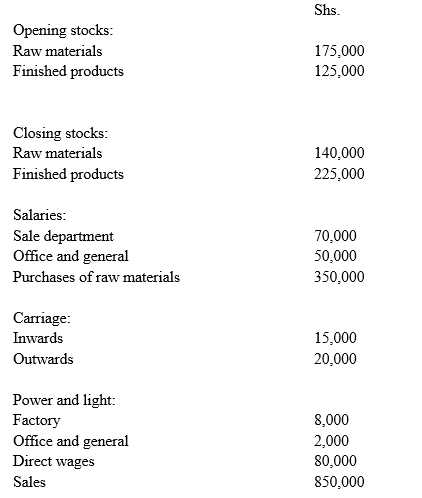 Required
Prepare a statement to show:
Cost of raw materials used
Cost of goods manufactured
Profit or loss made during the year
(15marks)
QUESTION FIVE
The following balances were taken from the books of Tonui, Koech and Langat, partners in a wholesale business,
on 30th November 2004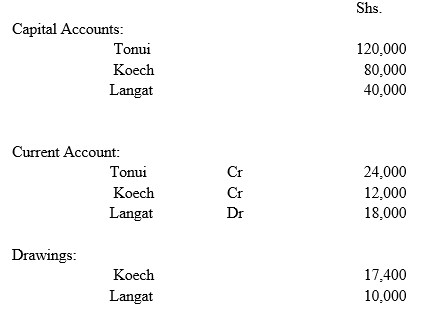 (Visited 17 times, 1 visits today)