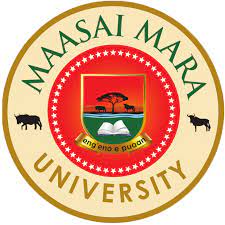 MAASAI MARA UNIVERSITY
REGULAR UNIVERSITY EXAMINATIONS 2013/2014 ACADEMIC YEAR
FIRST YEAR FIRST SEMESTER
SCHOOL OF BUSINESS AND ECONOMICS
BACHELOR OF BUSINESS MANAGEMENT
COURSE CODE: BBM 103
COURSE TITLE: PRINCIPLES OF ACCOUNTING II
DATE:29TH APRIL 2014 TIME: 9.00AM – 12.00PM
INSTRUCTIONS TO CANDIDATES
Question ONE is compulsory
Answer any other THREE questions
This paper consists of 4 printed pages. Please turn over.
QUESTION ONE
The treasurer of Nanyuki Sports Club prepared the following receipts and payments account for the year ended 30th September 2003.
Receipts and Payments Account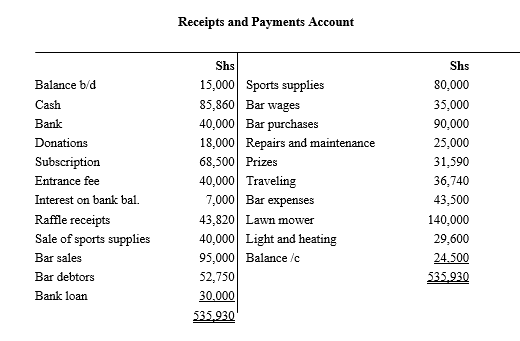 Additional information on 30th September 2003
a) Opening and closing bar stocks were Shs. 50,000 and Shs. 29,000
b) Subscriptions:
Shs.
Due for 2002 15,000
Paid in advance for 2004 19,000
Outstanding for 2003 23,000
c) Bank loan in attracting interest at a rate of 15%
d) Sports supplies are normally bought for resale to members
e) Stock of sports supplies on 30th September 2003 were valued at Shs. 20,000
f) Accrued bar expenses amounted to shs. 6,100
g) Lawn mower is to be depreciated by 20%
h) Shs. 30,000 of the entrance fee is to be credited to accumulated fund
i) Bar sales amounting to Shs. 85,000 were used to buy club premises but this was not recorded anywhere in the books.
For the period ended 30th September 2003, prepare
(i) Bar trading account
(ii) Income and expenditure account (25mks)
QUESTION TWO
The following trial balance was extracted from the books of Baba Dogo Ltd at 30th November 2003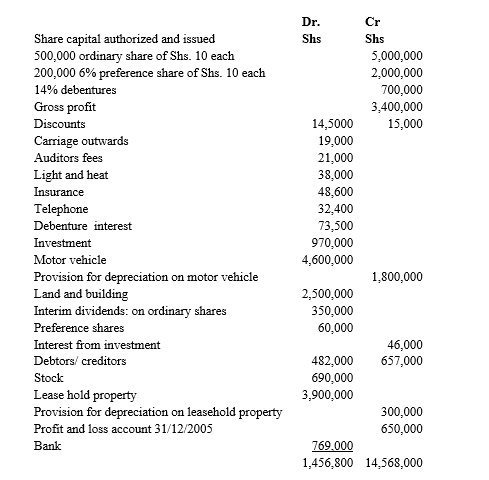 Additional information as at 30th November 2006
a) Debentures interest for the fourth quarter of the year has not been paid
b) Insurance prepaid was Shs. 12,000 while telephone and auditing fee accrued were Shs. 16,000 and Shs. 28,000 respectively.
c) Provision are to be made as follows:
(i) Depreciation on:
– Motor vehicle 20% p.a on book value
– Leasehold property 155 p.a on cost
(ii) Doubtful debts 4% of debtors
d) Directors proposed to:
(i) Transfer Shs. 450,000 general reserve
(ii) Pay a final dividend to ordinary shares to bring dividend to Shs. 3 per share
(iii) Ignore taxation
Required
Profit and loss and appropriation account for the year ended 30th November 2006 and a balance sheet at that time (15mks)
QUESTION THREE
The following is a trial balance of Wamaitha Traders as at 31st December 2009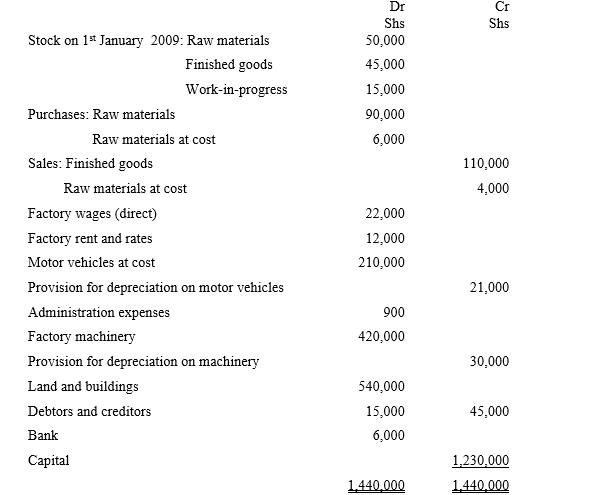 Note:
a) Stock on 31st December 2009: Finished goods 25,000
Raw materials 30,000
Work in progress 13,000
b) Depreciation is provided at 10% on cost of motor vehicles and 55 on the balance of machinery
c) Provision for bad debts was to be made at 2% of debtors
d) Goods manufactured are transferred to trading account at a profit of shs. 2,000
Required
Prepare the manufacturing, trading and profit and loss account for the period ended 31st December 2009 and a balance sheet as at that date (15 marks)
QUESTION FOUR
Langat and Koech are in partnership and a trial balance extracted form their books on 31st December 2004 is as follows: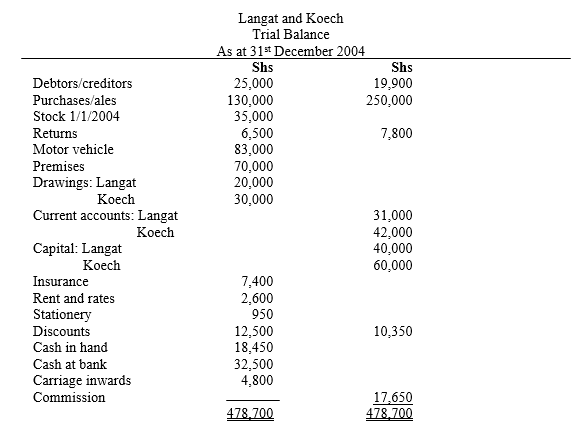 The following additional information is available:
a) Stock at 31st December 2004 was valued at Shs. 32,000
b) A provision for bad debts of 4% on debtors is to be created
c) Motor vehicle is to be depreciated by 15%
d) Interest on drawings is to be charged at 6%
e) Interest on capital is charged at 75
f) Langat is to get a salary of Shs. 19,000 per annum
g) Profits and losses to be shared by partners in the ratio of their fixed capital accounts.
Required
(i) Trading and profit and loss appropriation account
(ii) Partners current accounts
(iii) Balance sheet as at 31st December 2004 (15mks)
QUESTION FIVE
Abdi Noor a sole trader does not keep a complete set of books based on double entry system. The following were some of his assets and liabilities on the date shown: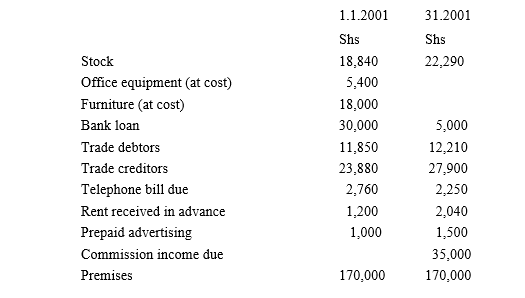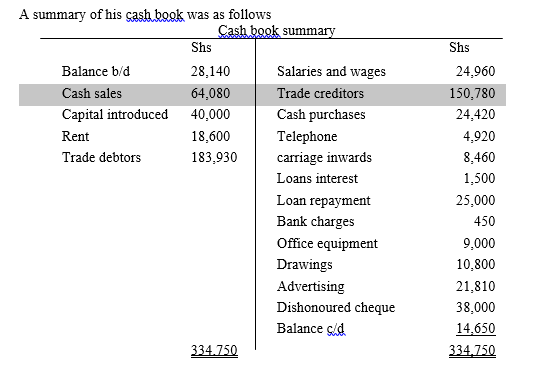 Additional information
a) The dishonoured cheque was from a credit customers who was allowed a discount of Shs. 1,900
b) Dishonoured allowed and received during the year amounted to shs. 3,690 and Shs. 4,080 respectively
c) The new equipment was bought on 1st July 2001
d) Office equipment is to be depreciated at 15% p.a on cost, and furniture at 20% p.a on cost.
e) During the year 2001, Suleiman took goods costing shs. 2,500 from business for personal use
Required
(i) Statement of Affairs to determine capital as at 1st January 2001
(ii) Trading and profit and loss account for the year ended 31st December 2001 and a balance sheet as at that date (15mks)
(Visited 118 times, 1 visits today)