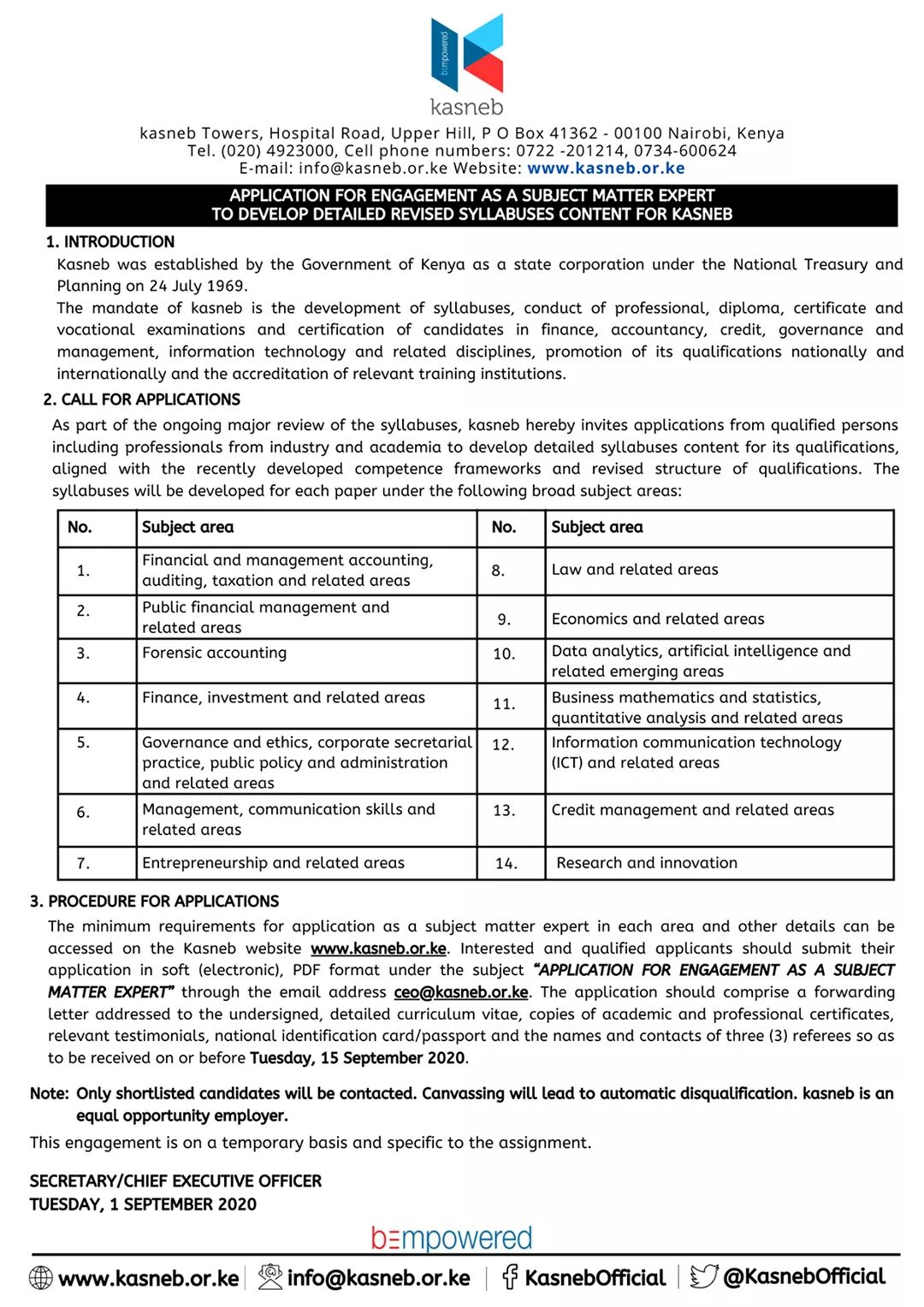 ADDITIONAL INFORMATION ON MINIMUM REQUIREMENTS FOR SUBJECT MATTER EXPERTS AND OTHER DETAILS
1. EXAMINATIONS OF kasneb UNDER THE REVISED STRUCTURE
Kasneb will administer the following examinations under the revised structure of qualifications:
(a) Short (vocational) courses
(i) Vocational Certificate in Entrepreneurship (VCE)
(ii) Vocational Certificate in IT (VCIT) – Graphic Design
(iii) Vocational Certificate in IT (VCIT) – Cyber Security
(iv) Vocational Certificate in IT (VCIT) – Blockchain applications
(b) Certificate examination
Certificate in Accounting and Management Skills (CAMS)
(c) Diploma examinations
(i) Accounting Technicians Diploma (ATD).
(ii) Diploma in Information Systems Support (DISS).
(d) Professional examinations
(i) Certified Public Accountants (CPA).
(ii) Certified Secretaries (CS).
(iii) Certified Investment and Financial Analysts (CIFA).
(iv) Certified Credit Professionals (CCP).
(v) Certified Information Systems Solutions Expert (CISSE).
(e) Post-qualifications certifications
(i) Public financial management
(ii) Forensic accounting
(iii) Ethics and integrity
2. OVERALL OBJECTIVE OF THE ENGAGEMENT
The overall objective of the engagement is to develop detailed syllabuses content for the various papers under the subject areas identified in this document. In developing the syllabuses content, successful applicants will be expected to make reference to the learning outcomes already developed for each paper.
Detailed Terms of Reference and other engagement terms will be provided to successful applicants.
3. MINIMUM REQUIREMENTS FOR ENGAGEMENT AS A SUBJECT MATTER EXPERT
Successful applicants will be required to meet the following minimum requirements:
(a) Academic and professional qualifications
(i) A bachelor's degree in the subject area of interest for short courses, certificate and diploma examinations.
(ii) A master's degree in the subject area of interest for professional examinations and post-qualification programmes.
(iii) Professional qualification in the subject areas of interest, where applicable.
(b) Work experience
At least ten (10) years relevant post-qualification experience in teaching, research and publication, professional practice or other relevant engagement. Teaching experience should ideally be at the university or tertiary institution level. The experience should be directly relevant to the nature of this engagement, with a clear demonstration of expertise obtained to successfully undertake the assignment.
Evidence of any publications including journal articles should be attached to the application where possible.
(c) Other requirements
Successful applicants will be required to demonstrate the following, as a minimum.
(i) Immediate availability to undertake the assignment.
(ii) Ability to work within strict timelines as shall be specified by Kasneb.
(iii) Ability to maintain the security, confidentiality and integrity of the engagement. Shortlisted applicants will undergo further vetting.
(iv) Access to relevant reading and reference materials necessary for the engagement.
4. OTHER RELEVANT INFORMATION
(a) One should apply for not more than three (3) papers to develop syllabuses content, arranged in order of priority and expertise. The papers selected should ideally be in the same subject cluster, although persons with demonstrated expertise in other subject clusters may also include the same.
(b) The application should be in soft (PDF) format.
(c) Successful applicants will be required to complete a disclosure form and a code of ethics before commencing the assignment.
(d) Other guidelines are as per the advertisement.
5. ENQUIRIES
Any enquiries should be made through the office of the Secretary/Chief Executive Officer using the email address ceo@kasneb.or.ke.
6: SPECIFIC PAPERS TO BE SELECTED
1.
Financial and management accounting, auditing, taxation and related areas
Financial Accounting Sub-Cluster
Foundations of Accounting – CAMS
Introduction to Financial Accounting – ATD
Financial Accounting – ATD
Principles of Accounting – CCP
Financial Statements Analysis for Credit Managers – CCP
Financial Accounting – CPA/CIFA
Financial Statements Analysis – CIFA
Principles of Accounting, Finance and Taxation – CS
Financial Reporting and Analysis
(Incorporating IPSAS) – CPA
Advanced Financial Reporting – CPA
Auditing Sub-Cluster
Principles of Auditing – ATD
Auditing and Assurance – CPA
Advanced Auditing and Assurance – CPA
Taxation Sub-Cluster
Elements of Taxation – CAMS
Principles of Taxation – ATD
Public Finance and Taxation for Investment Analysts – CIFA
Public Finance and Taxation – CPA
Advanced Taxation –CPA
Cost and Management Accounting Sub-Cluster
Fundamentals of Management Accounting – ATD
Management Accounting – CPA
Advanced Management Accounting- CPA
2.
Public financial management and related areas
Advanced Public Financial Management -CPA
Post qualification certification in public sector financial management with modules in:
IPSASs
Public Financial Management
Public Sector Auditing
Public Procurement and Disposal
Cash management
Debt management
Budgeting
Resource mobilization
Strategy and Leadership in the Public Sector
3.
Forensic accounting
Post qualification certification in forensic accounting with modules in:
Forensic Accounting
Fraud Schemes
Fraud Prevention and Risk Management
Law Related to Fraud and the Rule of Evidence
Fraud Auditing, Investigations and Reporting
Criminology
Law of Evidence
4.
Finance, Investment and related areas
Fundamentals of Finance – CAMS
Professional Ethics and Governance (for finance professionals) – CIFA
Introduction to Finance and Investments – CIFA
Portfolio Management –CIFA
Equity Investments Analysis –CIFA
Fixed Income Investments Analysis – CIFA
Corporate Finance – CIFA
Alternative Investments Analysis – CIFA
Advanced Portfolio Management – CIFA
Derivatives Analysis – CIFA
Finance for Decision Making – CIFA
Financial Management – CPA
Advanced Financial Management – CPA
5.
Governance and Ethics, Corporate Secretarial Practice, public sector policy and administration and related areas
Public Sector Governance, Policy and Administration – CS
Financial Markets and Specialised Institutions –CS
Corporate Governance and Ethics – CS
Research, Consultancy and Advisory – CS
Governance and Compliance Audit – CS
Boardroom Dynamics – CS
Post qualification certification in ethics and integrity (new product)
6.
Management, communication skills and related areas
Management Sub-Cluster
Principles of Management – ATD
Strategic Management and Leadership – CPA/CCP/CS/CIFA
Management Principles and Practice – CS
Human Resources Management – CS
Communication skills Sub-cluster
Communication Skills and Ethics in Information Systems – DISS
Communication Skills and Ethics for Information Systems – CISSE
Communication and Customer Relations – CCP
Communication Skills – CPA/CS
Marketing Sub-cluster
Principles of Marketing and Communication – CAMS
7.
Entrepreneurship and related areas
Entrepreneurship and Innovation – VCE
Principles of Entrepreneurship and Management – CAMS
Entrepreneurship and Communication –ATD
Entrepreneurship and Innovation – DISS
Entrepreneurship and Innovations – CISSE
8.
Law and related areas
Introduction to Law and Ethics – CAMS
Introduction to Law and Ethics – ATD
Introduction to Law and Ethics – CPA/CCP
Regulation of Financial Markets – CIFA
Introduction to Law and Governance – CS
Company Law – CPA/CS
Meetings: Compliance and Administration – CS
9.
Economics and related areas
Principles of Economics – ATD
Economics – CPA/CCP
Business Environment sub-sector
Business Environment -CCP
10.
Data analytics, artificial intelligence and related emerging areas
Business Analytics for Accountants – CPA
Financial Modelling and Analytics – CIFA
Business Analytics for Credit Managers – CCP
11.
Business mathematics and statistics, Quantitative analysis and related areas
Business Mathematics Sub-Cluster
Fundamentals of Business Mathematics – CAMS
Business Mathematics and Statistics – ATD
Quantitative Analysis sub-cluster
Quantitative Analysis –CPA/CCP
12.
Information Communication Technology and related areas
General ICT papers
Graphics Design – VCIT
Information and Cyber Security – VCIT
Blockchain applications – VCIT
Fundamental ICT Skills – CAMS
Information Communication Technology – ATD
Introduction to Computing Systems – DISS
Information Systems Applications – DISS
Information Systems Support and Integration – DISS
Records and Archives Management – DISS
Information Systems Applications – DISS
Computing Systems – CISSE
Information Systems Support and Integration – CISSE
Information Systems Applications – CISSE
Information Systems Strategy, Governance and Ethics – CISSE
Information Communication Technology – CPA/CS
Data management, analytics and programming
Data analytics
Database Management – DISS
Programming – (with python and other lower level languages and excluding java) – DISS
Data Management Information Systems – CISSE
Programming and Systems Analysis and Design – CISSE
Big Data management – CISSE
Big Data Analytics – CISSE
Networking and information (cyber) security
Network Design and Administration – DISS
Data Communication – DISS
Ethical Hacking – DISS
IS Security Controls and Policy – DISS
Networking and Data Communication – CISSE
Networking and Telecommunications – CISSE
Information Systems Security – CISSE
Web Commerce, Graphics Design and Animations
Graphics Design I – DISS
Graphic Design II – DISS
Animation Skills I – DISS
Animation Skills II – DISS
Web Commerce – CISSE
Graphics and Animations – CISSE
13.
Credit Management and related areas
Credit Management –CCP
Credit Risk Management –CCP
Corporate Credit Analysis – CCP
Collections Management –CCP
Credit Governance and Compliance – CCP
Advanced Credit Risk Management – CCP
Advanced Collections Management – CCP
Debt Recovery Management – CCP
14.
Research and innovation
ICT Project – DISS
Research and Project Management – CISSE
ICT Project – CISSE
Research Project – CS
(Visited 261 times, 1 visits today)