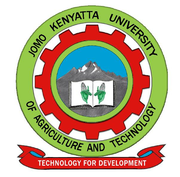 W1-2-60-1-6
JOMO KENYATTA UNIVERSITY
OF
AGRICULTURE AND TECHNOLOGY
University Examinations 2012/2013
FIRST YEAR FIRST SEMESTER EXAMINATION FOR THE DEGREE OF BACHELOR OF ARCHITECTURE
ABA 2204: MATERIALS SCIENCE II
DATE: AUGUST, 2012 TIME: 2 HOURS
INSTRUCTIONS:
• This paper contains SIX questions.
• Answer ANY THREE Questions.
• Marks are shown against each question.
Question One
a) Lime is used as a stabilizing agent soil blocks. State THREE precautions that should be taken when handling lime. [4.5 marks]
b) Discuss the mechanisms that take place when lime, as a stabilizing agent, and moist clay soil are mixed. [10 marks]
c) Soil to be used for making soil blocks should be subjected to, and pass, TWO main preliminary tests. Outline these tests. [5.5 marks]
Question Two
a) Various fibres are used in the manufacture of cement-sand roofing tiles and roofing sheets. Outline the main improvements that these fibres bring into the cement-sand mixture. State THREE types of fibres that may be used.
b) Discuss the mechanisms that take place when cement, as a st soil-stabilizing agent, is dispersed throughout a wet soil sample. [9 marks]
c) Discuss THREE factors that determine the degree of compaction of stabilized soil blocks.
[6 marks]
Question Three
a) State FOUR desirable properties that a good soil for making stabilized soil building blocks should have. [4 marks]
b) In countries where the conventional preservation of timber is limited due to lack of facilities for pressure applications, sap displacement method becomes a suitable method for non-conventional preservative applications. Outline how this method works.
[4 marks]
c) Before the start of making stabilized soil blocks, TWO main categories of preparations are required. Discuss these preparations. [12 marks]
Question Four
a) State FOUR functions of mortar in wall constructed with stabilized soil blocks.
[2 marks]
b) State FIVE general precautions that should be observed when using cement-sand mortar.
[5 marks]
c) Cement-sand mortar may be prepared by either hand or machine mixing. Describe the hand mixing method. [9 marks]
d) State FOUR essential properties of good mortar for use in stabilized-soil block walls.
[4 marks]
Question Five
a) It has been said that "making good stabilized – soil blocks is an art." Discuss the steps taken in order to produce good qualify stabilized-soil blocks. [16 marks]
b) Outline the compression mechanisms that take place when soil is compressed in the soil block-making machine. [4 marks]
Question Six
a) Define the following terms as they apply in soil-based wall construction.
i. Stabilized – soil block
ii. Earth
iii. Adobe
iv. Rammed earth
v. Poured earth [5 marks]
b) With reference to a normal dwelling house, discuss the merits and limitations of earth or soil-based wall construction. [15 marks]
(Visited 58 times, 1 visits today)