Kraljic matrix
Seller"s Perception Matrix
The Seller's Perception Matrix, sometimes known as Supplier Preferencing, allows the buyer to gain an appreciation of the supplier's perception of the organisation as a customer in their overall market.
It complements Portfolio Analysis and contributes alongside this to the creation of a sourcing strategy. Using a matrix similar to that for Portfolio Analysis, the organisation's value to the supplier currently and in the future is plotted into quadrants to identify its attractiveness relative to other customers in the market. An understanding of the organisation's position in the market from the supplier's point of view indicates the type of buyer–supplier relationship that should be developed and provides an insight into how this can be achieved.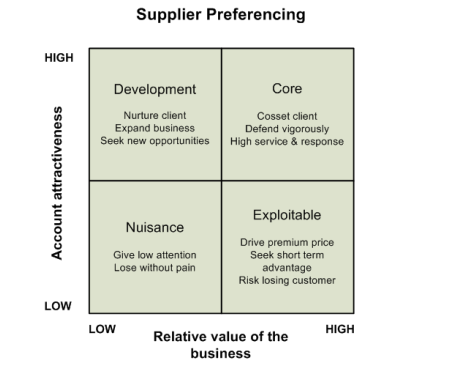 Supply market analysis
Supply market analysis involves the gathering of facts, data, observations and trends about the marketplace in which suppliers conduct business. An effective supply market analysis for a product or service starts with an overview of the global market. It is necessary to evaluate the major players in that market. In depth knowledge of both the industry and the suppliers in it is critical to making the right sourcing decisions and to eliminate unnecessary risk.
The additional value of a supply market analysis is that it helps with defining the negotiation strategy, demonstrates procurement's added value to the enterprise and it builds credibility and respect with suppliers. This is one task that requires human effort as business intelligence cannot easily be automated.
Develop a commodity profile
A pre-requisite to analyzing the supply market is having a clear understanding of what specific product or service is being examined and defines the scope of the analysis.
1. define the commodity and establish the classification code, if any
2. do supplier interviews and site visits
3. talk to internal users and subject matter experts
(Visited 312 times, 1 visits today)