CHAPTER EIGHT: MATERIAL MANAGEMENT
8.1 INTRODUCTION AND MEANING
Materials management is a function, which aims for integrated approach towards the management of materials in an industrial undertaking. Its main objective is cost reduction and efficient handling of materials at all stages and in all sections of the undertaking. Its function includes several important aspects connected with material, such as, purchasing, storage, inventory control, material handling, standardization etc.
8.2 SCOPE OR FUNCTIONS OF MATERIALS MANAGEMENT
Materials management is defined as "the function responsible for the coordination of planning, sourcing, purchasing, moving, storing and controlling materials in an optimum manner so as to provide a pre-decided service to the customer at a minimum cost".
From the definition it is clear that the scope of materials management is vast. The functions of materials management can be categorized in the following ways: (as shown in Fig. 8.1)
1. Material Planning and Control
2. Purchasing
3. Stores Management
4. Inventory Control or Management
Objectives of the study:
a) Introduction and Meaning
b) Scope or Functions of Materials Management
c) Material Planning and Control
d) Purchasing
e) Stores Management
f) Inventory Control or Management
g) Standardization
5. Standardization
6. Simplification
7. Value Analysis
8. Ergonomics'
9. Just-in-Time (JIT)
All the above mentioned functions of materials management has been discussed in detail in this
chapter.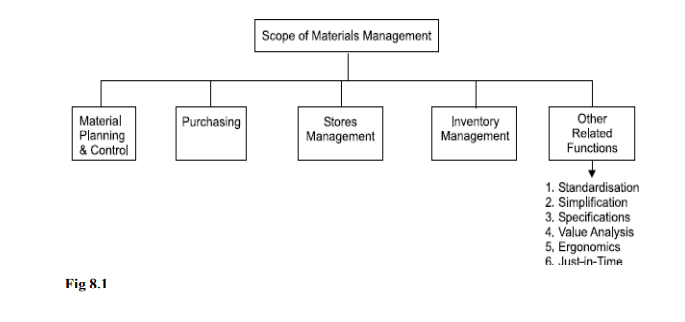 (Visited 125 times, 1 visits today)