ISO stands for International Organization for Standardization. It is an international body, which consists of representatives from more than 90 countries. The national standard bodies of these countries are the members of this organization. Bureau of Indian Standards (BIS) are the Indian representative to ISO, ISO and International Electro Technical Commission (IEC)) operate jointly as a single system. These are non-governmental organizations, which exist to provide common standards on international trade of goods and services.
ISO 9000 standards expect firms to have a quality manual that meets ISO guidelines, documents, quality procedures and job instructions, and verification of compliance by third party auditors. ISO 9000 series has five international standards on quality managements. They are:
1. ISO 9000 — Quality management and Quality assurance standards
2. ISO 9001 — Quality systems: Quality in design
3. ISO 9002 — Quality systems: Production and Installation
4. ISO 9003 — Quality systems: Final inspection and test
5. ISO 9004 — Quality management and systems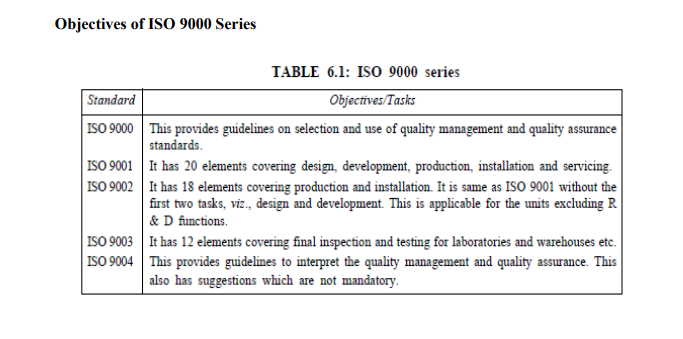 Benefits of ISO 9000 Series
ISO 9000 series provides several tangible and intangible benefits which are listed below:
1. This gives competitive advantage in the global market.
2. Consistency in quality, since ISO helps in detecting non-conformity early which makes it possible to take corrective action.
3. Documentation of quality procedures adds clarity to quality system.
4. ISO 9000 ensures adequate and regular quality training for all members of the organization.
5. ISO helps the customers to have cost effective purchase procedure.
6. The customers while making purchases from companies with ISO certificate need not spend much on inspection and testing. This will reduce the quality cost and lead-time.
7. This will help in increasing productivity.
This will aid to improved morale and involvement of workers.
9. The level of job satisfaction would be more.
Steps in ISO 9000 Registration
1. Selection of appropriate standard from ISO 9001, ISO 9002 and ISO 9003 using the guidelines given in ISO 9000.
2. Preparation of quality manual to cover all the elements in the selected model.
3. Preparation of procedures and shop floor instructions which are used at the time of implementing the system. Also document these items.
4. Self-auditing to check compliance of the selected model.
5. Selection of a registrar and making application to obtain certificate for the selected model.
A registrar is an independent body with knowledge and experience to evaluate any one of the three models of the company's quality system (ISO 9002). Registrars are approved and certified by acridities.
The registrar, on successful verification and assessment will register the company. Before selecting a registrar, one should know the following:
1. Accreditors of the registrar.
2. Background and credibility of the registrar.
3. Cost of registration through the proposed registrar.
4. Expected harmony between the company and the potential registrar while working towards implementing ISO model in the company.
(Visited 98 times, 1 visits today)