The strategic benefits of e-Procurement have been verified by many leading companies worldwide, and eProcurement is a significant tactic in most companies" e-Business strategies. The consensus is that e-Procurement benefits organizations with respect to the procurement cost and process efficiency associated with procurement activities. This is due to web-based eProcurement solutions can support four major B2B tasks in organizations: search, processing, monitoring and control, and coordination. Since the internet arrived on the scene as a supply management tool in the mid-2009 enterprises have tried to gain the benefit e-procurement can
deliver: cost reduction, process streamlining, improved contract compliance, increased spend under management, and more. However many challenges stood in the way and only in the recent years have leading enterprises taken full advantage of the value of e-procurement systems.
1. For private Sector Organizations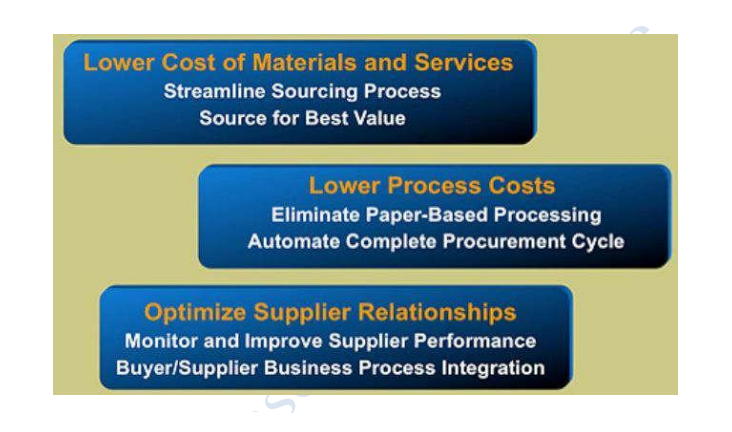 2. For public sector Organizations
1. To improve service levels to buyers, suppliers and users involved in public sector procurement.
2. To develop a more integrated approach to procurement across public sector agencies and sectors.
3. To minimize the transaction costs associated with procurement through standardization, streamlining and automation of the procurement processes within and where appropriate across agencies and sectors.
4. To maximize value for money for the public sector expenditure by enhancing the buying power of the public sector.
5. To promote competition among suppliers while maintaining reliable sources of supply.
6. To optimize inventory levels through the adoption of efficient procurement practices.
7. To make effective use of human resources in the procurement process.
8. To promote the use of ecommerce in the wider economy.
9. To improve the auditability of public procurement expenditures.
10. To be progressive in the adoption of procurement related Information and Communication Technologies (ICT).
BENEFITS OF E-PROCUREMENT
 A virtual elimination of paperwork and paperwork handling
A reduction in the time between need recognition and the release and receipt of an order
Improved communication both within the company and with suppliers
A reduction in errors
Lower overhead costs in the purchasing area
Purchasing personnel spend less time on processing of purchase orders and invoices, and more time on strategic value-added purchasing activities
(Visited 83 times, 1 visits today)