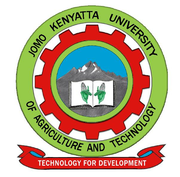 W1-2-6-1-6
JOMO KENYATTA UNIVERSITY OF AGRICULTURE AND TECHNOLOGY
UNIVERSITY EXAMINATIONS 2012/2013
EXAMINATION FOR THE DEGREE OF MASTER OF ……………………………………..
HSD 3107 : AGRICULTURE AND NATIONAL RESOURCE MANAGEMENT
DATE: DECEMBER 2012 TIME: 1.30 HOURS
INSTRUCTIONS : ANSWER ANY THREE QUESTIONS
QUESTION ONE
Using the concept of the 'Three World's of Agriculture' explain the characteristics of sub-saharan
agriculture and its implication for food security and poverty reduction . [20 marks]
QUESTION TWO
"Africa needs more trade NOT AID" Explain this statement in the context of the agricultural
sector. [20 marks]
QUESTION THREE
Using any TWO examples, Explain the role of technology in promoting agricultural
productivity in developing countries.
QUESTION FOUR
Agriculture has the potential to both degrade and restore the environment. Explain .
QUESTION FIVE
One of the hindrances to the growth and productivity of African Agriculture is the policy
environment under which it operates. Explain this statement and suggest ways in which the policy
environment in African countries could be improved. [20 marks]
(Visited 99 times, 1 visits today)