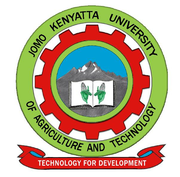 W1-2-60-1-6
JOMO KENYATTA UNIVERSITY
OF
AGRICULTURE AND TECHNOLOGY
University Examinations 2014/2015
FIRST YEAR SECOND SEMESTER EXAMINATION FOR
THE DEGREE OF MASTER OF BUSINESS ADMINISTRATION
HCBA 3110: STRATEGIC MANAGEMENT
DATE: AUGUST 2014 TIME: 3 HOURS
INSTRUCTIONS: ANSWER QUESTION ONE (COMPULSORY) AND ANY OTHER TWO QUESTIONS
Question One (30 Marks)
XYZ Company Ltd actively started its business operations seven years ago. The company wants to open a local detergent manufacturing plant in Kenya by mid 2015. You have been appointed as a consultant to help the company conduct an internal environment analysis as well as industry and competition analysis.
a) Discuss the main activities of the industry analysis process that could guide you in understanding the detergent industry. (10 Marks)
b) Discuss the competition levels with the help of Michael Porter's five force industry analysis. (10 Marks)
c) (i) Describe SWOT analysis as a way to guide the analysis of the firm. Provide
examples.
(ii) Highlight the merits and demerits of SWOT as an analytical tool. (10 Marks)
Question Two (15 Marks)
a) Strategic management is a process with a beginning yet without an end. Discuss the critical tasks of strategic management and outline the dimensions of strategic decisions in today's organizations. (10 Marks)
b) Write short notes on the following: (5 Marks)
(i) Strategic Thinking
(ii) Value Chain analysis
Question Three (15 Marks)
a) Long – term strategy should be derived from a firm's attempt to seek a competitive advantage based on one of three generic strategies. Explain with examples the core generic strategies. (10 Marks)
b) Benchmarking is a continuous process of measuring products, services and processes against those of industry leaders or toughest competitors. Outline the reasons for benchmarking. (5 Marks)
Question Four (15 Marks)
a) The Boston Consulting Group (BCG) tool matrix is one of the tools used in the product portfolio analysis. Clearly illustrate and explain the analogy of the BCG matrix. (10 Marks)
b) Discuss the purpose of strategy evaluation and control. (5 Marks)
(Visited 155 times, 3 visits today)