FAILURE PREVENTION AND RECOVERY
Objectives:
By the end of the chapter the student should be able to:
(i) define the term failure
(ii) identify the key types of failure
(iii) describe techniques of measuring failure
(iv) outline the methods for Failure detection and analysis
Introduction
Failure is the state or condition of not meeting a desirable or intended objective, and may be viewed as the opposite of success. Operations managers, who are almost always concerned with improving the dependability of their operations and the products and services which they produce, try to have strategies in place which attempt to minimise the likelihood of failure and learn from failure when it does occur, in spite of all the attempts to prevent them. What is then important is that they have plans in place which help them recover from the failures when they do occur.
Types of failure
(i) Design failure:Operations may look fine on paper but cannot cope with real circumstances
(ii) Facilities failure: All facilities (machines, equipment, buildings, fittings) are liable to
breakdown.
(iii) People failure: Errors and violations by individuals
(iv) Supplier failure:A supplier failed to Deliver, Deliver on time, Deliver quality goods
and services, can lead to failure within an operation.
(v) Customer failure: Customer failure can result when customers misuse products and services
Techniques of measuring failure
There are three main ways of measuring failure:
• Failure rates – how often a failure occurs
• Reliability – the chances of failure occurring
• Availability – the amount of available useful operating time
Failure detection and analysis
The Mechanisms used to detect failure include:
1. In process checks
2. Machine diagnostic check
3. Point-of-departure interviews
4. Phone surveys
5. Focus groups
6. Complaint cards of feedback sheets
7. Questionnaires
In process checks – employees check that the process is acceptable during the process.
Machine diagnostic check – a machine is put through a prescribed sequence of activities to expose any failures or potential failures.
Point-of-departure interviews – at the end of a service, staff may check that the service has been satisfactory.
Focus group – groups of customers are brought together to some aspects of a product or service.
Phone survey, Complaint cards & Questionnaires – these can be used to ask for opinions
about products or services.
Failure Analysis
1. Accident investigation
Trained staff analyse the cause of the accident and make recommendations to minimize or eradicate of the failure happening again. Specialized investigation technique suited to the type of accident
2. Product liability
Ensures all products are traceable. Traced back to the process, the components from which they were produced and the supplier who supplied them. Goods can
be recalled if necessary.
3. Complaint analysis
Complaints and compliments are recorded and taken seriously. They are Cheap and easily available source of information about errors. It involves tracking number of complaints over time.
4. Critical incident analysis
Requires customers to identify the elements of products or services they found either satisfying or not satisfying. It is especially used in service operations.
5. Failure mode and effect analysis (FMEA)
Used to identify failure before it happens so proactive measures can be taken. For each possible cause of failure the following type questions are asked:
1. What is the likelihood a failure will occur?
2. What would the consequence of the failure be?
3. How likely is such a failure to be detected before it affects the customer?
Risk priority number (RPN) calculated based on these questions and Corrective action taken based on RPN.
6. Fault-tree analysis
This is a logical procedure that starts with a failure or potential failure and works backwards to identify all the possible causes and therefore the origins of that failure. It"s Made up of branches connected by AND nodes and OR nodes. Branches below AND node all need to occur for the event above the node to occur. Only one of the branches below an OR node needs to occur for the event above the node to occur. A fault tree diagram in relation to a server failure is given as an example below: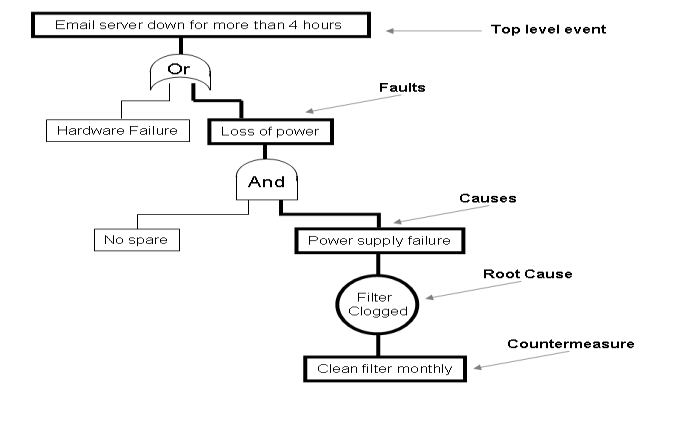 Improving operations Reliability/Ways of reducing failure
After the cause and effect of a failure is known, the next course of action is to try to prevent the failures from taking place. This can be done in a number of ways
i. Designing out fail points in the process
ii. Building redundancy into the process
iii. "Fail-safeing" some of the activities in the process
iv. Maintenance of the physical facilities in the process
Designing out fail points
Identifying and then controlling process, product and service characteristics to try to prevent failures. Use of process maps to detect potential fail points in operations.
Redundancy
Building up redundancy to an operation means having back-up systems in case of failure. Increases the reliability of a component. It is an Expensive solution which is Used for breakdowns with critical impact
Fail-safeing
Called poka-yoke in Japan. It is Based on the principle that human mistakes are to some extent inevitable. The objective is to prevent them from becoming a defect. Poka-yokes are simple (preferably inexpensive) devices of systems which are incorporated into a process to
prevent inadvertent operator mistakes resulting in a defect.
Maintenance
Maintenance is the method used by organizations to avoid failure by taking care of their physical activities. It is Important to organizations whose physical activities play a central role in creating their goods and service.
Review questions
1. List the key types of failure
2. Identify the techniques of measuring failure
3. Outline the methods for failure detection and analysis
4. Discuss the importance of failure analysis
5. Suggest ways of improving operations reliability/ways of reducing failure
References
Krajewski, L.J; Ritzman, L.P; Malhotra, M.K 2010, Operations Management: Processes and Supply
Chains, 9 th edn, Pearson Education, New Jersey.
Hill, T 2005, Operations Management, 2 nd edn, Palgrave Macmillan, Basingstoke.
Johnston, R & Clark, G 2008, Service Operations Management: Improving Service Delivery, 3 rd edn, Pearson Education, Harlow.
Barnes, D 2008, Operations Management: An International Perspective, Thomson Learning,
London.
(Visited 21 times, 1 visits today)