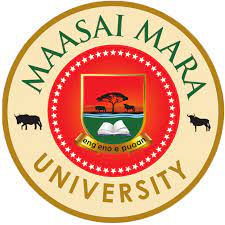 MAASAI MARA UNIVERSITY
REGULAR UNIVERSITY EXAMINATIONS
2018/2019 ACADEMIC YEAR
SECOND YEAR FIRSTSEMESTER
SCHOOL OF BUSINESS AND ECONOMICS
BSC. ECONOMICS/BSC. FINANCIAL
ECONOMICS/BSC. ECONOMICS AND STATISTICS
BACHELOR OF SCIENCE IN ECONOMICS
COURSE CODE: ECO 2106
COURSE TITLE:CALCULUS FOR ECONOMISTS I
DATE: 7TH DECEMBER, 2018 TIME: 8.30 – 10.30 A.M
INSTRUCTIONS TO CANDIDATES
Answer ALL questions in Section A and ANY Other THREE questions from Section B
DO NOT MAKE ANY WRITING ON THIS QUESTION PAPER
This paper consists of THREE printed pages. Please turn over.
SECTION A (25 MARKS)
Question one (25 Marks)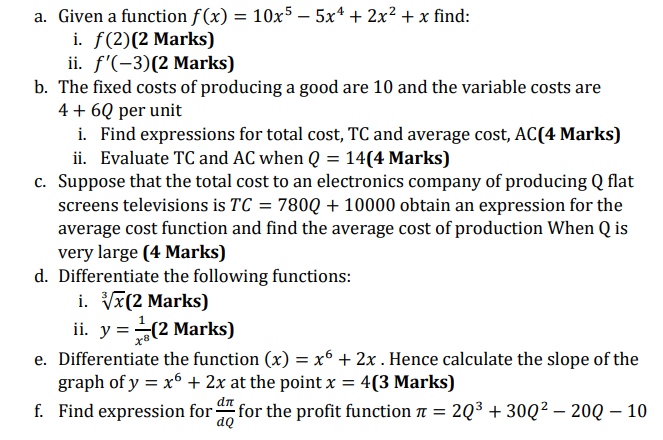 Question three (15 Marks

i. Write down an expression for the marginal revenue function, MR
(2 Marks)
ii. If the current demand is 70 estimate the change in the value of TR due
to a 3-unit increase in Q(3 Marks)
Question four (15 Marks)
a. Determine the elasticity of demand when the price falls from 136 to 119

Question five (15 Marks)
a. Differentiate the following functions

SECTION B (45 MARKS)
Question two (15 Marks)




c. If the total revenue function, TR of a good is given by 100𝑄 − 𝑄
i. Write down an expression for the marginal revenue function, MR
(2 Marks)
ii. If the current demand is 70 estimate the change in the value of TR due
to a 3-unit increase in Q(3 Marks)
(Visited 47 times, 1 visits today)