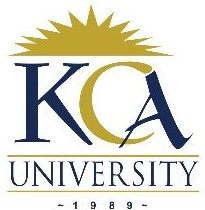 KCA UNIVERSITY
EXAMINATIONS FOR DIPLOMA IN INFORMATION TECHNOLOGY
DIT406 HUMAN COMPUTER INTERACTION
DATE: TIME: 2 HOURS
Instruction: Answer Question One and any other two questions.
QUESTION ONE
a) What are mental models, and why are they important in interface design (6 Marks)
b) What can a system designer do to minimize the memory load of the user? (4 Marks)
c) Name and briefly describe the type of dialogue messages that are used to enhance HCI (8
Marks)
d) Explain briefly the Shneiderman's Golden rules for dialogue design (12 Marks)
QUESTION TWO
a) Explain briefly the four main factors that determine grouping based on Gestalt theory
[4mks]
b) Explain four factors that affect the design of a system. (8marks)
c) Give four benefits of direct manipulation over command line interfaces. Also list four
problems of direct manipulation. (8 Marks)
QUESTION 3
a) Describe three principles of direct manipulation. (6 Marks)
b) Groupware can be classified by "Function". Explain (4 Marks)
c) Describe five guidelines that can be used for constructing system messages. (10 Marks)
QUESTION 4
a) One of the techniques used in the usability life cycle is task analysis. In relation to task
analysis, discuss the concept of GOMS (4 Marks)
b) Describe the Shneiderman's Golden rules for dialogue design (16 Marks)
QUESTION 5
a) List and explain any four Jacob Nielsen's Usability Heuristics principles for Commercial Web
sites (8 Marks)
b) Discus four principles of user centered design. (4 Marks)
c) Discuss the life cycle of usability engineering as applied in human computer
interaction. (8 Marks)
.
(Visited 25 times, 1 visits today)