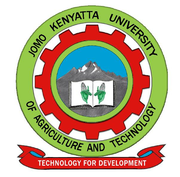 W1-2-60-1-6
JOMO KENYATTA UNIVERSITY
OF
AGRICULTURE AND TECHNOLOGY
University Examinations 2012/2013
STAGE IV EXAMINATION FOR THE DIPLOMA IN INFORMATION TECHNOLOGY
DIT 0407: ADVANCED PC MAINTENANCE AND UPGRADE
DATE: AUGUST, 2012 TIME: 2 HOURS
INSTRUCTIONS: Answer Question ONE and any TWO other questions.
Question One (20 marks)
a) Describe the essence of the following BIOS settings:
i. Extended system configuration Data (ESCD)
ii. Self-monitoring Analysis and Reporting Technology (SMART)
iii. Boot order
iv. AGP Aperture [8 marks]
b) i. Describe the following system files:
• AUTOEXEC.BAT
• CONFIG.SYS
• WIN.INI [6 marks]
ii. The microprocessor is regarded as the brain of a computer system due to the processing tasks it handles. Using a block diagram, discuss the function of the various units within the microprocessor. [6 marks]
Question Two (20 marks)
a) State and explain any four common ways through which device drivers are installed in windows-based PCs. [8 marks]
b) i. Describe any three factors to consider when attempting to purchase high quality
hard drives. [8 marks]
ii. Nyakobari sacco, a client of yours, calls and informs you that they are unable to print documents and yet the printer is connected. Outline the steps you would undertake to solve such a problem. [6 marks]
Question Three (20 marks)
a) State and describe any three motherboard form factors. [9 marks]
b) i. Explain how best you would tell that the following components are faulty at start
up.
• Random Access Memory
• Hard disk drive
• CMOS battery [6 marks]
ii. Differentiate between a Bus controller and a DMA controller. [5 marks]
Question Four (20 marks)
a) Outline how you would go about troubleshooting a PC with the following symptoms.
• "ntldr missing" or "Non-system disk" boot error message
• Computer boots directly to safe mode
• Computer runs hot
• "OS not found" error message [12 marks]
b) i. Using appropriate examples, differentiate between the two types of preventive
maintenance procedures. [6 marks]
ii. Differentiate between an internal and external modem. [2 marks]
(Visited 43 times, 1 visits today)