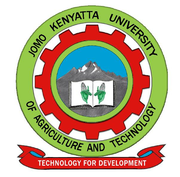 W1-2-60-1-6
JOMO KENYATTA UNIVERSITY
OF
AGRICULTURE AND TECHNOLOGY
University Examinations 2012/2013
STAGE I EXAMINATION FOR THE CERTIFICATE/DIPLOMA IN INFORMATION TECHNOLOGY
DIT 0101: INTRODUCTION TO COMPUTERS
DATE: AUGUST, 2012 TIME: 1hr 30min
INSTRUCTIONS: Answer Question ONE and any TWO other questions.
Question One (40 marks) – Compulsory
a) List THREE principal characteristics of a computer. [3 marks]
b) Name the kind of technology used by each of the following computer generations.
i. First generation
ii. Second generation
iii. Third generation
iv. Fourth generation
v. Fifth generation [1 mark each]
c) Define the following:
i. Motherboard
ii. Microprocessor
iii. Central Processing Unit (CPU)
iv. Memory chip
v. System dock
vi. Bus
vii. Port
viii. Register
ix. Expansion slot
x. Expansion card [1 mark each]
d) Explain briefly the following:
i. Operating system
ii. Booting
iii. Filename [2 marks each]
f) What is the meaning of the following components of a filename.
i. Directory
ii. File
iii. Extension
iv. Version [1 mark each]
g) Describe the following types of viruses:
i. Boot sector viruses
ii. Memory resident viruses
iii. Trojans
iv. Worms [2 marks each]
h) Is a modem an input or output device? Explain. [4 marks]
Question Two – 20 marks
a) Describe the hardware components of all general-purpose computers. [10 marks]
b) Computer types can be divided into 3 categories according to electronic nature. Discuss these computer types. [6 marks]
c) Identify and explain briefly FOUR common categories of keyboard keys. [4 marks]
Question Three – 20 marks
a) Discuss, with the aid of simple diagrams, the following basic components of a computer system.
i. Keyboard
ii. System unit
iii. Monitor [4 marks each]
b) An operating system executes many functions to operate computer system efficiently. Explain FOUR of its essential functions. [8 marks]
Question Four – 20 marks
a) What is an application suite? [2 marks]
b) Explain the following types of application software giving an example of each:
i. Word processing software
ii. Spreadsheet software
iii. Database software
iv. Presentation software
v. Page layout software
vi. Multimedia software [3 marks each]
(Visited 624 times, 1 visits today)