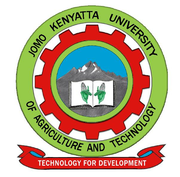 W1-2-60-1-6
JOMO KENYATTA UNIVERSITY OF AGRICULTURE AND TECHNOLOGY
University Examinations 2015/2016
YEAR I SEMESTER I/II EXAMINATION FOR THE DIPLOMA/CERTIFICATE IN INFORMATION TECHNOLOGY/DPSM/DBA
DIT 0101: INTRODUCTION TO COMPUTER & OPERATING SYSTEM
DATE: AUGUST, 2016 TIME: 1.5 HOURS
INSTRUCTIONS: Answer Question ONE and Any Other TWO Questions.
Question One (15 Marks)
a) Describe the term computer system. [2 marks]
b) Briefly explain the following disk operations. [8 marks]
i. Disk defragmentation
ii. Scan disk
iii. Disk formatting
iv. Disk partitioning
c) A computer performs five major operations irrespective of size and type. Explain.
[10 marks]
d) Describe the computer architecture according to ron Neumann. [10 marks]
Question Two (15 Marks)
a) What is a computer virus? [3 marks]
b) Explain any six ways you can protect your computer against virus attack. [12 marks]
Question Three (15 Marks)
a) Describe any three characteristics of a computer. [6 marks]
b) Perform the following number conversions. [9 marks]
i. Convert 548 to its decimal number
ii. Convert 3A16 to its decimal number
iii. Convert 101112 to its decimal number
Question Four (15 Marks)
a) Explain the term computer software. [3 marks]
b) With the aid of a well illustrated diagram explain the classification of computer software. [12 marks]
Question Five (15 Marks)
a) Operating systems perform important functions inside a computer. Explain any five categories of operating systems.
b) State and explain any five DOS commands. [5 marks]
(Visited 295 times, 1 visits today)