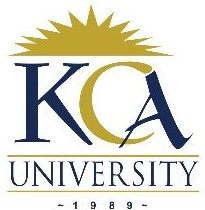 UNIVERSITY EXAMINATIONS: 2018/2019
EXAMINATION FOR THE DIPLOMA IN INFORMATION
TECHNOLOGY/DIPLOMA IN BUSINESS INFORMATION TECHNOLOGY
DCU100 COMMUNICATION SKILLS
DATE: NOVEMBER, 2018 TIME: 2 HOURS
INSTRUCTIONS: Answer Question ONE(Compulsory) and any other TWO questions.
QUESTION ONE (30 MARKS)
a) State the main barriers to communication you have encountered at KCA University?
(10 Marks)
b) Describe FOUR main features of communication process (8 Marks)
c) Explain FIVE major characteristics of an effective communicator (10 Marks)
d) Explain why feedback is an important element in communication (2 Marks)
QUESTION TWO (20 MARKS)
a) Describe the important roles that effective listening plays in your daily life (6 Marks)
b) Clearly outline the various steps involved in the listening process (10 Marks)
c) Describe the levels of communication in organizational context (4 Marks)
QUESTION THREE (20 MARKS)
a) Distinguish between a Public Speech and a Conversation (4 Marks)
b) Explain FIVE methods of delivering a public speech (10 Marks)
c) Describe Schramm's model of communication (6 Marks)
QUESTION FOUR (20 MARKS)
a) Describe five advantages of written communication. (10 Marks)
b) Write an essay on how communication skills have been instrumental to you. What lessons have
you learnt that you can apply in your daily life. (10 Marks)
QUESTION FIVE (20 MARKS)
a) Assume you are now undertaking the research project in your diploma course, identify and
describe TWO major categories of information sources that would inform your research
(6 Marks)
b) What are FOUR major factors that you consider when choosing an information source
(8 Marks)
c) Explain the major roles of nonverbal communication (6 Marks Marks)?
(Visited 21 times, 1 visits today)