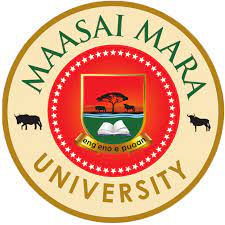 MAASAI MARA UNIVERSITY
REGULAR UNIVERSITY EXAMINATIONS 2013/2014 ACADEMIC YEAR
FIRST YEAR FIRST SEMESTER
SCHOOL OF BUSINESS AND ECONOMICS
DIPLOMA IN BUSINESS MANAGEMENT
COURSE CODE: DBM 10
COURSE TITLE: COMPUTER APPLICATION IN BUSINESS
DATE:16TH APRIL 2014 TIME: 9.00AM – 11.30AM
INSTRUCTIONS TO CANDIDATES
Section A is compulsory
Answer any other THREE questions in Section B
This paper consists of 2 printed pages. Please turn over.
SECTION A (25 MARKS): ANSWER ALL QUESTIONS FROM THIS SECTION
QUESTION ONE (25 MARKS)
a) Discus the elements that makes up a computer system. (6 Marks)
b) Define The Term Computer (4 Marks)
c) Explain any FIVE elements of communication (5 marks)
d) Discuss in detail the THREE major components of the CPU. (10 Marks)
SECTION B (15 MARKS): ANSWER ANY THREE QUESTIONS FROM THIS SECTION.
QUESTION TWO (15 MARKS)
a) Explain the two types of spread sheets (4 Marks)
b) Highlight four steps of mail merging (6Marks)
c) State THREE uses of spreadsheets (3 Marks)
d) Explain three types of alignments used in Microsoft word (2 Marks)
QUESTION THREE (15 MARKS)
a) Explain FIVE Reasons for preventive maintenance we use in safeguarding the computers in organization. (5 Marks)
b) There are TWO level categories of computer software, describe them. (4 Marks)
c) Describe the structure of a computer and all of its devices, using a diagram. (6 Marks)
QUESTION FOUR (15 MARKS)
a) Describe FIVE functionality of the computer and the classification in which they exists. (10 Marks)
b) State SIX application of computer in the society today. (5 Marks)
QUESTION FIVE (15 MARKS)
a) Discuss five input computer devices. (5 marks)
b) State four advantages of word processors over the manual type writers (4 Marks)
c) Describe the two types of input (6 Marks)
(Visited 19 times, 1 visits today)