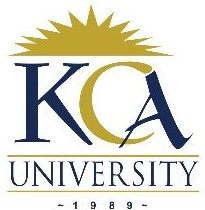 UNIVERSITY EXAMINATIONS: 2018/2019
EXAMINATION FOR THE DIPLOMA IN BUSINESS INFORMATION
TECHNOLOGY
DBIT304 GENERAL ECONOMICS
FULLTIME/PARTTIME
DATE: NOVEMBER, 2018 TIME: 2 HOURS
INSTRUCTIONS: Answer Question One & ANY OTHER TWO questions.
QUESTION ONE
(a) Explain Three advantages of a planned economy (3 Marks)
(b) Discuss Four factors affecting demand for a commodity in the market (4 Marks)
(c) A certain commodity has the following equations

Required:
(i) Giving an economic reason, identify which equation represent the demand curve
and which equation represents the supply curve (4 Marks)
(ii) Determine the equilibrium quantity and price for this commodity (4 Marks)
(d) Explain Three effects of maximum price controls in an economy (4 Marks)
(e) Explain Three characteristics of perfect competition market (3 Marks)
(f) Discuss Three monetary tools used by central bank to regulate supply of money in an
economy (6 Marks)
(g) Explain Two factors affecting price elasticity of supply of a commodity (2 Marks)
QUESTION TWO
(a) Outline Six factors that could hinder realisation of economic development in
developing countries. (6 Marks)
(b) Explain Three sources of monopolies in an economy (3 Marks)
(c) Explain Three functions of central banks in an economy (3 Marks)
(d) Distinguish between maximum price control and minimum price control (4 Marks)
(e) Discuss Four policies that can be adopted in a country to reduce unemployment level
in a country (4 Marks)
QUESTION THREE
(a) The following table relates the price of a commodity X to the quantity demanded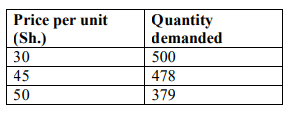 Determine the price elasticity of demand as the price changes from Sh. 30 to Sh. 50,
hence make a comment (4 Marks)
(b) Explain Three approaches used to measure National income statistics (6 Marks)
(c) Explain Four uses of National income statistics/figures in an economy (4 Marks)
(d) Explain the differences between short run period and the long run period (3 Marks)
(e) Highlight Three advantages of international trade to a nation (3 Marks)
QUESTION FOUR
(a) Explain the difference between price discrimination and product differentiation
(4 Marks)
(b) The following table shows the costs by a firm operating in the short run period. Fill in
the missing figures.

(c) (i) Differentiate between creeping inflation and moderate inflation (4 Marks)
(ii) Highlight Three causes of inflation in a country (2 Marks)
(iii) Explain four measures that can be used to fight inflation in an economy
(4 Marks)
QUESTION FIVE
(a) Discuss Three factors affecting the price elasticity of demand (6 Marks)
(b) Highlight Four determinants of economic development in a country (4 Marks)
(c) Explain the effect of subsidies on the price of a commodity (2 Marks)
(d) Explain the contribution of the banking sector on economic growth of a nation
(4 Marks)
(e) Discuss Four effects of inflation in an economy
(Visited 24 times, 1 visits today)