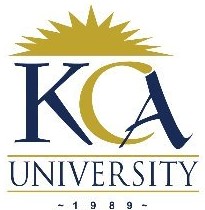 UNIVERSITY EXAMINATIONS: 2016/2017
EXAMINATION FOR THE DIPLOMA IN BUSINESS INFORMATION
TECHNOLOGY/ DIPLOMA IN INFORMATION TECHNOLOGY
DBIT106 DIT302 FUNDAMENTALS OF ACCOUNTING/FINANCIAL
MANAGEMENT FOR IT
DATE: DECEMBER, 2016 TIME: 1 ½ HOURS
INSTRUCTIONS: Answer any THREE questions.
QUESTION ONE
a) The following is a trial balance of G Still as at 31st September 2009: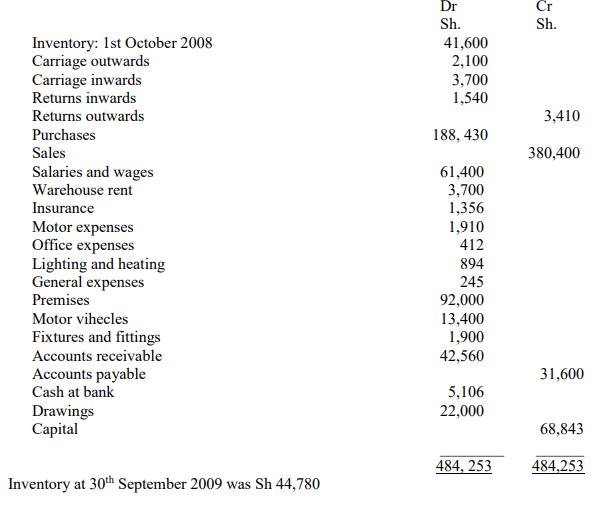 Required:
a) Draw up an income statement/T,P&L Account for the year ending 30th September 2009
(10 Marks)
b) A balance sheet as at 31st September 2009 (10 Marks)
QUESTION TWO
The following transactions relates to Jane a sole trader in Kiambu County:
2014 May:
1 Started in business with Kshs.2,500,000 in bank
" 3 Bought machinery worth Kshs.750,000 on credit from XYZ ltd.
" 5 Bought a motor van paying by cheque Kshs.600, 000
" 8 Paid the amount owing to XYZ Ltd by cheque
" 15 Purchased stock from Unga Ltd. on credit Kshs.200,000
" 17 Sold goods on credit to Stima Club Kshs.100,000
" 18 Returned goods to Unga Ltd worth Kshs.10,000
" 23 Stima Club returned goods to us worth Kshs.15,000
" 25 Paid the amount owing to Unga Ltd. by cheque
" 30 Bought more machinery by cheque Kshs.280,000
Required:
(i) Prepare the relevant ledger accounts and balance them off (10 Marks)
(ii) Prepare a trial balance as at 31st May 2014 (10 Marks)
QUESTION THREE
a) Discuss any five users of accounting information (10 Marks)
a) Complete the following gaps in the following table: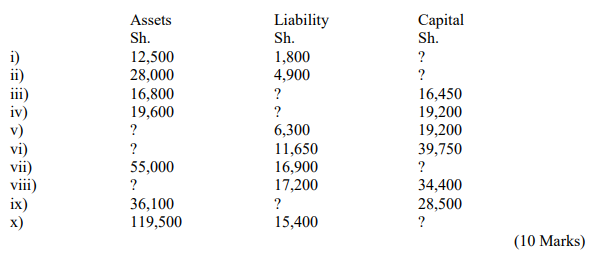 QUESTION FOUR
b) The following details relates to a second hand bookshop at Mariakani.
2012 Nov:
1
st: Balance brought forward from the previous month: cash sh 105; Bank sh2164.
2
nd: Cash sales sh 605.
3
rd: Took sh 500 from the cash till and paid it into the bank
4
th: J Mathews paid us sh 217 by a cheque
5
th: We paid for postage stamps sh 60 cash.
6
th: Bought office equipment by cheque sh 189.
7
th: We paid J.Lucas by cheque sh 50
9
th:We received rates refund by cheque sh 72.
11th: Withdrew sh 250 from the bank for business use.
12th: Paid wages in cash sh 239.
14th: Paid motor expenses by cheque sh 57.
16th: L Levy lent us sh 200 in cash
Required:
From the above transactions write up a two column cash book.
(20 Marks)
QUESTION FIVE
a) Briefly explain why the following parties may be interested in the financial statements of an
organization:
i. Employees. (4 Marks)
ii. Financial analysts. (4 Marks)
iii. The government. (4 Marks)
iv. The public. (4 Marks)
b) State any two circumstances that may hinder a firm from improving on the usefulness of its
financial statements.
(Visited 31 times, 1 visits today)