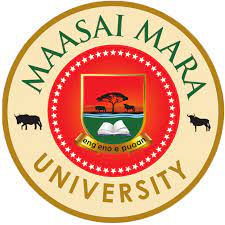 MAASAI MARA UNIVERSITY
SCHOOL OF BUSINESS AND ECONOMICS
DEPARTMENT OF BUSINESS MANAGEMENT
CERTIFICATE IN HUMAN RESOURCE MANAGEMENT
END OF SEMESTER EXAMINATION APRIL 2014
CHR 109: ACCOUNTING
Instructions answer Question one and any other three questions
QUESTION ONE
a) Discuss any five objectives of Accounting in an organization [ 10 marks ]
b) Explain the major classifications of accounting [ 5 marks ]
c) A cashier in a firm keeps a petty cash on imprest system. During the month of May the petty cashier had a balance of shs 500 and was reimbursed shs 1,500 (that is the cash float). I n the following week, the following payments are made:
Kshs
1st May – bought stamps for 80
2nd May – paid bus fare for 120
2nd May – cleaning materials 240
3rd May – bought fuel 150
3rd May – cleaning wages 300
4th May – bought stamps 200
4th May – paid L. Thompson (creditor) 400
5th May – fuel costs 150
On the 5th of May the cashier requested for a refund of the cash spent and this amount was reimbursed back.
Required:
Prepare a detailed petty cash book showing the balance to be carried forward to the next period and the relevant expense accounts, as they would appear on the General Ledger.[ 10 marks ]
QUESTION 2
Mr keya commenced trading as a wholesaler stationer on 1 May 2010 with a capital of shs 5,000.00 in cash and shs 4,000 in the bank for his business.
During May the following transactions took place.
May 1 Bought shop fittings and fixtures from store fitments Ltd for Kshs 2,000.00
May 2 Purchased goods on credit from Abel Kshs 650.00
May 4 Sold goods on credit to Bruce Kshs 700.00
May 9 Purchased goods on credit from Green Kshs 300.00
May 11 Sold goods on credit to Hill Kshs 580.00
May 13 Cash sales paid into bank account Kshs 200.00
May 16 Received cheque from Bruce in settlement of his account
May 17 Purchased goods on credit from Kay Kshs 800.00
May 18 Sold goods on credit to Nailor Kshs 360.00
May 19 Sent Cheque to Abel in settlement of his account
May 20 Paid rent by cheque Kshs 200.00
May 21 Paid delivery expenses by cheque Kshs 50.00
May 24 Received from Hill Kshs 200.00 on account
May 30 Drew cheque for personal expenses Kshs 200.00 and assistant wages Kshs 320.00
May 31 settled the account of Green.
Required
i) Prepare a two column cash book to record these transactions [ 10 marks ]
ii) Distinguish between capital revenue and recurrent revenue [ 5 marks ]
QUESTION 4
a) The following trial balance has been drawn up from the accounts of End pages bookshop.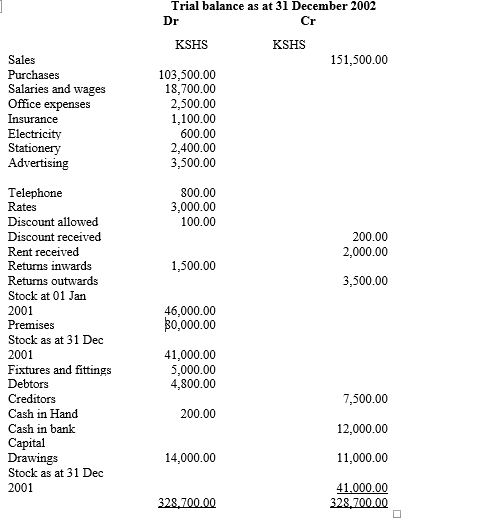 Required
i) Prepare a Trading and profit and loss account for the year ended 31 December 2002
[ 9 marks ]
ii) A balance sheet as at that date. [ 6 marks ]
QUESTION 4
a) Briefly explain any 5 parties that may be interested in the financial statements of an organization
[ 5 marks]
c) Discuss the difference between private and public companies [ 10 marks]
QUESTION 5
a) Explain the term "bank reconciliation" and state the reasons for its preparation. [ 5 marks ]
(b) Semakula, a sole trader received his bank statement for the month of June 2001. At that
date the bank balance was Sh. 706,500 whereas his cash book balance was Sh.2,366,500.
His accountant investigated the matter and discovered the following discrepancies:
1. Bank charges of Sh.3, 000 had not been entered in the cashbook.
2. Cheques drawn by Semakula totaling Sh.22, 500 had not yet been presented to the bank.
3. He had not entered receipts of Sh.26, 500 in his cashbook.
4. The bank had not credited Mr Semakula with receipts of Sh.98, 500 paid into the bank on 30 June 2001.
5. Standing order payments amounting to Sh.62, 000 had not been entered into the cashbook.
6. In the cashbook Semakula had entered a payment of Sh.74, 900 as Sh.79, 400.
7. A cheque for Sh.15, 000 from a debtor had been returned by the bank marked "refer to drawer" but had not been written back into the cashbook.
8. Semakula had brought forward the opening cash balance of Sh.329, 250 as a debit balance instead of a credit balance.
9. An old cheque payment amounting to Sh.44, 000 had been written back in the cashbook but the bank had already honored it.
10. Some of Semakula's customers had agreed to settle their debts by paying directly into his bank account. Unfortunately, the bank had credited some deposits amounting to Sh.832, 500 to another customer's account. However acting on information from his customers Semakula had actually entered the expected receipts from the debtors in is cashbook.
Required:
i. A statement showing Semakula's adjusted cashbook balance as at 30 June 2001. (6 marks)
ii. A bank reconciliation statement as at 30 June 2001. (4marks)
Question 6
Explain any 5 accounting principles [ 15 marks ]
(Visited 93 times, 1 visits today)