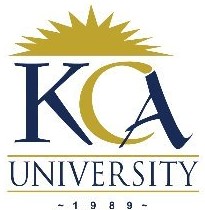 UNIVERSITY EXAMINATIONS: 2018/2019
EXAMINATION FOR THE DEGREE OF BACHELOR OF BUSINESS IN
INFORMATION TECHNOLOGY
BUSS203 BUSINESS FINANCE
FULL TIME / PART TIME
DATE: APRIL 2019 TIME: 2 HOURS
INSTRUCTIONS: Answer Question One & ANY OTHER TWO questions.
QUESTION ONE
a) State the application of time value of money as used in Finance (3 Marks)
b) Explain the difference between discounting and compounding (2 Marks)
c) Explain the difference between annuity and perpetuity (2 Marks)
d) Faida Ltd intends to invest their savings in a turbine alternator. The project has a life span of
5 years and will generate the following cashflows.


Using a required rate of return of 15%, Determine the present values for each year and advise
on the investment.
(5 Marks)
e) ACK Ltd took a 4-year loan of Kshs. 800,000 from KAC Bank to invest in sugar packaging
machine which will boost their brand in Kenya. The loan attracts an interest rate of 20% per
annum paid on quarterly basis.
Required
i) Determine the interest payable in the 6th period (4 Marks)
ii) Prepare the loan amortization schedule. (4 Marks)
f) Within a business finance context, discuss the problems that might exist in the relationship
between Shareholders and creditors.
(5 Marks)
g) Differentiate between Marginal weighted cost of capital (MWCC) and Weighted cost of
capital (WACC) (5 Marks)
(Total: 30 Marks)
QUESTION TWO
a) Explain the features of a sound appraisal technique (5 Marks)
b) State practical problems that are faced by finance managers in capital budgeting decisions
(5 Marks)
c) Describe the features of long term investment decisions. (5 Marks)
d) Explain the financial and non- financial goals of a firm (5 Marks)
(Total: 20 Marks)
QUESTION THREE
Bluex limited intends to purchase a machine worth Shs. 1,500,000 which will have a residue
value Shs.200,000 after 5 years useful life. The saving in cost resulting from the use of this
machine are:
Shs.
Year 1 800,000
Year 2 350,000
Year 3 –
Year 4 680,000
Year 5 775,000
Required
i) Using NPV method, advise the company whether this machine should be purchased if the
cut off rate is 14% and acceptable saving in cost is 12% of the cost of the investment.
(7 Marks)
ii) The Internal Rate of Return (8 Marks)
iii) Profitability Index (3 Marks)
iv) Pay Back Period (2 Marks)
(Total: 20 Marks)
QUESTION FOUR
The following is the capital structure of XYZ Ltd as at 31/12/2018
Ordinary share capital Sh.10 par value
Retained earnings
10% preference share capital Sh.20 par
value
12% debenture Sh.100 par value
Additional information
1. Corporate tax rate is 30%
2. Preference shares were issued 10 years ago and are still selling at par value MPS = Par
value
3. The debenture has a 10 year maturity period. It is currently selling at Sh.90 in the
market.
4. Currently the firm has been paying dividend per share of Sh.5. The DPS is expected to
grow at 5% p.a. in future. The current MPS is Sh.40.
Required
a. Determine the WACC of the firm. (12 Marks)
b. Explain why market values and not book values are used to determine the weights.
(5 Marks)
c. What are the weaknesses associated with WACC when used as the discounting rate, in
project appraisal. (3 Marks)
(Total: 20 Marks)
QUESTION FIVE
a. In relation to capital markets, differentiate between the terms stock markets and financial
markets. (4 Marks)
b. The Nairobi Stock Exchange is set to undergo major changes in terms of services when the
Central Depository System (CDS) is put in place after the Parliament passes the Bill on the
issue.
i) What is the Central Depository System (CDS)? (4 Marks)
ii) How will it benefit the parties to be affected by it? (4 Marks)
c. The shares of Ndege Airways Company Ltd. have been trading at Sh.8.00 per share for the
last several months. The existing shareholders argue that such shares are undervalued.
They say that, the shares should normally be trading at around Sh.15 per share.
i) When would a share price said to be unfair? (4 Marks)
i) If the price earnings ratio for Nege Airways Company Ltd. ordinary shares is 2.5
times while the price earnings ratio of the shares of Piki Piki Company Ltd. is 10
times, which share is more attractive to a potential investor? Give reasons.
(4 Marks)
(Total: 20 Marks)
(Visited 71 times, 1 visits today)