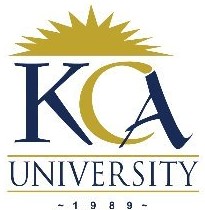 UNIVERSITY EXAMINATIONS: 2019/2020
ORDINARY EXAMINATION FOR THE BACHELOR OF BUSINESS
INFORMATION TECHNOLOGY
BUSS 100: INTRODUCTION TO ACCOUNTING 1
FULLTIME/PARTITIME/DISTANCE LEARNING
DATE: AUGUST 2019 TIME: 2 HOURS
INSTRUCTIONS: Answer Question One and Any Two Questions
QUESTION ONE (30 MARKS)
a) A Three column cash book for a wine wholesaler is to be written up from the following details
, balanced off and the relevant discount accounts in the general ledger shown. (20 Marks)
March 2018
March 1 Balances brought forward: cash Sh6,200: bank Sh71,420
March 2 The following paid their account by cheque, in each case deducting 5 per cent cash
discounts: G Slick Sh2,600; P fish Sh3,200; T Old Sh4,200.
March 4 Paid rent by cheque Sh4, 300 March 6 F black lent us Sh50,000 paying by cheque
March 8 We paid the following accounts by cheque in each case deducting a 5 per cent cash
discount ;R white Sh7,200;G Green Sh9,600;L Flip Sh16,000.
March 10 Paid motor expenses in cash Sh810
March 12 J Pie pays his account of Sh900, by cheque Sh880, deducting Sh20 cash discount
March 15 Paid wages in cash Sh5,800
March 18 the following paid their accounts by cheque in each case deducting 5 per cent cash
discount A pony Sh 5,400; B line & son Sh 7,000:T Owen Sh5,200.
March 21 Cash withdrawn from the bank Sh4,000 for business use.
March 24 Cash drawings sh 2,000
March 25 Paid W peat his account Sh1,600 by cash Sh1,550, having deducted Sh50cash discount
March 29 Bought fixtures paying by cheque Sh7,200
March 31 received commission by cheque Sh1,200
b) Briefly discuss FIVE users of accounting information and their interest on the information.
(10 Marks)
QUESTION TWO (20 MARKS)
Enter the asset, capital and liability accounts in the books of a General Antics shop and
answer the following questions:
March 1 Started in business with Sh800,000 in the bank
March 2 bought goods on credit from the following person: l frank Sh5,500; G Byers Sh 29,000;
P Lee Sh6,100
March 5 cash sales Sh51,000 March 6 Paid wages in cash Sh11,000
March 7 Sold goods on credit to :j snow Sh29,500; K park Sh 3,600 ;B Tyler Sh64,000
March 9 Bought goods on cash Sh120,000
March 10 Bought goods on credit from: G byres Sh 41,000 P.lee Sh124,000
March 12 Bought goods on cash Sh11,000
March 13 Sold goods on credit from K park Sh6000:B Tyler Sh20,500.
March15 Bought shop fixtures on credit from shop ltd Sh74,000
March 17 Paid G Byers by cheque Sh 70,000
March 18 We returned goods to p Lee Sh8,300
March 21 Paid Shop Ltd a cheque for Sh74,000
March 24 B Tyler paid us his account by cheque Sh84,500
March 27 we returned goods to L Frank Sh1,800
March 30 G Prince Lent us Sh100,000 by cash
March 31 Bought a van paying by cheque Sh625,000
Required
i) Record the transactions in the books of General Antics shop for the of March 2018.
(12 Marks)
ii) Prepare a trial balance for the month of March 2018 in the books of General Antics shop
(8 Marks)
QUESTION THREE (20 MARKS)
a) State the meaning and significance of the following accounting principles
i) Going concern (3Marks)
ii) Consistency (3Marks)
iii) Accruals concept (3Marks)
b) State four characteristics of good accounting information (4Marks)
c) Distinguish between provision for depreciation and doubtful debts (2 Marks)
d) State three advantages which would accrue to a firm that practice record keeping
(5 Marks)
QUESTION FOUR (20 MARKS)
Ngamia One co. Ltd has been trading for some years as a distributor. The following list of
balances has been extracted from his ledger as at 30 June 2018.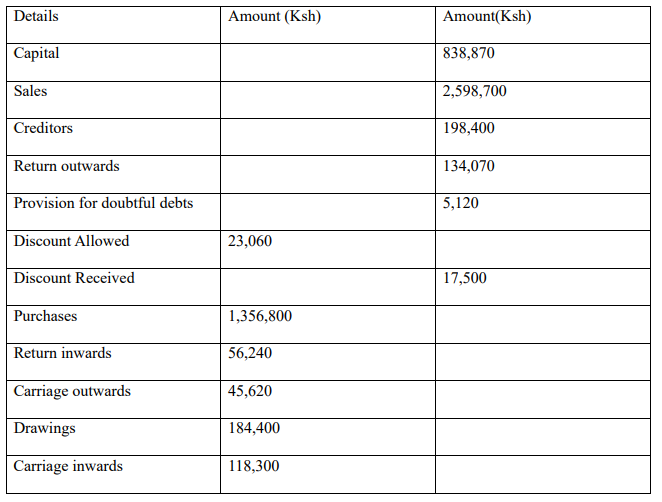 The following additional information as at 30june 2018 is available
a. Stock at the close of business was valued at Sh 177,500
b. Insurances have been prepaid by Sh 11,200
c. Heating and lighting is accrued by Sh13,600
d. Rates have been prepaid by Sh 54,350
e. The provision for doubtful debt is to be adjusted so that is 5% of trade debtor
f. Depreciation policy on fixtures and fittings is to be provided at 10 % pa. On cost.
Required:
a) Prepare Sweet Orchards co. Ltd's income statement for the year ended 30 June 2018
(10 Marks)
b) Prepare Sweet Orchards co. Ltd's statement of financial position as at 30 June 2018
(10 Marks)
QUESTION FIVE (20 MARKS)
a) Discuss FIVE accounting errors and how they can be corrected in the pursuit of ensuring
accuracy in accounting information (10 Marks)
b) Explain the following terms as used in accounting (10 Marks)
i. Asset
ii. Liability
iii. Capital
iv. Expense
v. Income
(Visited 39 times, 1 visits today)