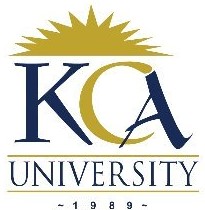 UNIVERSITY EXAMINATIONS: 2017/2018
EXAMINATION FOR THE DEGREE OF BACHELOR OF BUSINESS IN
INFORMATION TECHNOLOGY
BUSS 100 INTRODUCTION TO ACCOUNTING I
FULL TIME/PART TIME/DISTANCE LEARNING
DATE: DECEMBER, 2017 TIME: 2 HOURS
INSTRUCTIONS: Answer Question One & ANY OTHER TWO questions.
QUESTION ONE
You have met Mr Pesa Kinoti your high school classmate who dropped out in form three. He is
successful trader with a general supplies store in Kinoo and he has been advised by his personal
coach to be preparing financial statements. He cannot understand all the fuss made about
Financial statements for "all that matters is how much money there is in the bank.
Required;
Prepare notes for a meeting with Kinoti later in the week which include
i. A list of those likely to use his financial statements and why they may require such
statements (6 Marks)
ii. A response to his statement that "all that matters is how much money there is in the bank"
(4 Marks)
iii. Enter following transactions in the cash Book of M/s Tea Traders for the Month of
February 2016



(10 Marks)
QUESTION TWO
Record the following in respective ledger accounts, balance the off, and then extract at Trial
balance as at 30 November 2015.
2015 November
1 Started in business with Kshs.1,500,000 in the bank
3 Bought goods on credit from Ismaili Kshs.29,000, Bonface Kshs.1,200,000, Rachel
Kshs.61,000, Charles Kshs.54,000
5 Cash sales Kshs.61,000
6 Paid rent by cheque Kshs.17,800
7 Paid business rates by cheque Kshs.13,000
11 Sold goods on credit to: Peter Kshs.8,500, Francis Kshs.4,800, Tacey Kshs 164,000
17 Paid wages by cash Kshs. 29,000
18 We returned goods to: Ismaili Kshs.1800; Charles Kshs.2700
19 Bought goods on credit from: Charles Ksh.11,000, Rachel Kshs.32,000,
Jack Kshs. 1 6,500
20 Goods were treturned to us by: Francis Kshs 600, Peter Kshs1400,
21 Bought van oncredit from Toyota Motors Ltd Kshs.495,000
23 We paid the following by cheque: Ismaili Kshs.27,200, Bonface Kshs.120,000,
Rachel Kshs.50,000
25 bought other motor van paying by cheque immediately Kshs 620,000
26 Received a loan of Ksh.75,000 cash from Equity Bank
28 Received cheques from: Peter Kshs.7100, Francis Kshs.4,200
30 Proprietor brings a further Kshs.90,000 into the business by a payment into the business
bank account.
(20 Marks)
QUESTION THREE
From the following trial balance of B Morse draw up on conclusion of his first year in business,
Trial balance as at 31 December 2015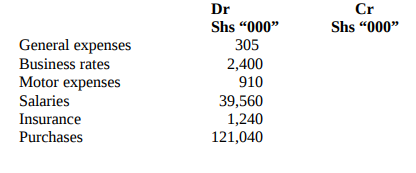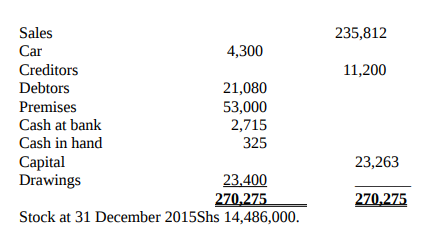 Additional information
1. Prepaid business rates amounted to Shs. 120,000
2. December salaries of Shs. 700,000 were in arrears as at the year end
3. Depreciate premises by Shs. 5300,000
4. The proprietor took goods worth 450,000 for personal use.
5. Of the debtors 80,000 are uncollectible and thus have to be written off
Required
a) Statement of financial performance for the year ended 31 December 2015 (12 Marks)
b) Statement of Financial position as at 31 December 2015 (8 Marks)
QUESTION FOUR
i. Explain the importance of the trail balance in the accounting process (4 Marks)
ii. Explain six accounting errors that cannot be detected by the trial balance (6 Marks)
Enter up the purchases day book from the following details, post the items to the relevant
accounts in the purchases ledger and show the transfer to the general ledger (Purchases account).
2016 Kshs.



(10 Marks)
(Visited 25 times, 1 visits today)