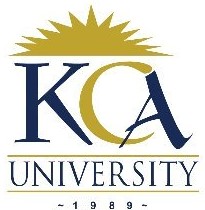 UNIVERSITY EXAMINATIONS: 2017/2018
EXAMINATION FOR THE DEGREE OF BACHELOR OF SCIENCE IN
INFORMATION TECHNOLOGY /BACHELOR OF SCIENCE IN
INFORMATION COMMUNICATIONS TECHNOLOGY / BACHELOR OF
APPLIED COMPUTING
BIT4302 TELECOMMUNICATIONS
FULL TIME/PART TIME/DISTANCE LEARNING
DATE: APRIL, 2018 TIME: 2 HOURS
INSTRUCTIONS: Answer Question One & ANY OTHER TWO questions.
QUESTION ONE [30 MARKS]
a) Explain briefly four techniques can be used to increase capacity in mobile networks.
4 Marks
b) State four causes of transmission errors and discuss the effect of each upon a signal.
4 Marks
c) Explain briefly how a cellular network is organized. 4 Marks
d) Discuss the benefits of teleworking 4 Marks
e) Distinguish between "piconet" and "scatternet" as used in Bluetooth technology.
4 Marks
f) Given the bit stream below, encode it using:
(i) Non-Return to Zero-Inverted 2 Marks
(ii) Manchester 2 Marks
(iii) Differential Machester 2 Marks
(iv) Bipolar AMI 2 Marks
(v) Frequency Shift Keying (FSK) 2 Marks
1 0 1 0 1 1 1 0 1
QUESTION TWO [20 MARKS]
a) Define the following terminologies as used in telecommunications:
(i) Simplex 1 Mark
(ii) Half Duplex 1 Mark
(iii) Full Duplex 1 Mark
(iv) Connection-oriented network service 1 Mark
(v) Connectionless-oriented network service 1 Mark
b) GPRS is a wireless Packet Switched Data. State any four of its characteristics.
4 Marks
c) Wireless LANs can accommodate various network topologies. The standard defines a
BSS as a group of stations that communicate with each other. In this regard, discuss
briefly the following 802.11 topologies:
(i) Ad hoc networks. 2 Marks
(ii) Basic Service Set (BSS) 2 Marks
(iii) Extended Service Set (ESS) 2 Marks
d) State five functions performed by processes running on intermediary devices.
5 Marks
QUESTION THREE [20 MARKS]
a) A switching network helps move traffic from a source subscriber equipment to a
destination subscriber equipment. The switching network may be a voice network or data
network.
(i) Give a simple diagram that shows a switching network with intermediate network
nodes and end station nodes. 2 Marks
(ii) Explain why the switching network is not (in practice) of the full mesh type
unless under special reasons. 2 Marks
(iii) A switching network has a total of seven (7) communication network nodes.
Determine the number of links the network would have if it was full-meshed.
2 Marks
b) Explain the importance of standards and describe the role of ITU with regard to
telecommunications in the world today. 7 Marks
c) The TCP/IP model describes the functionality of the protocols that make up the TCP/IP
protocol suite. These protocols, which are implemented on both the sending and receiving
hosts, interact to provide end-to-end delivery of applications over a network. Describe the
steps involved in a complete communication process. 7 Marks
QUESTION FOUR [20 MARKS]
(a) Identify the distinguishing features of the First Generation, Second Generation and Third
Generation Mobile Phone systems. 6 Marks
(b). The GSM architecture is shown in Fig. Q4.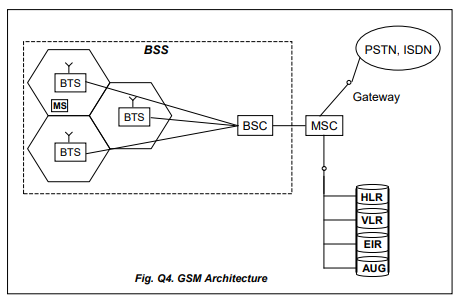 Fig. Q4. GSM Architecture
i) State ONE function for each of the following elements: HLR; VLR; EIR and
AUG.
ii) GSM has been evolved to the GPRS system. Show the architecture of the evolved
system (GPRS) and state the functions of the new key components in the system.
9 Marks
(c) (i). State the UPLINK frequency band and DOWNLINK frequency band as used in the
GSM900 system in Kenya. 2 Marks
(ii) A user is communicating on channel 890.2 MHz uplink channel. Determine the
downlink channel. 3 Marks
QUESTION FIVE [20 MARKS]
a) (i) Discuss briefly the how RFID (Radio Frequency Identification) operates.
4 Marks
(ii) What are tags/transponders in RFID system and how are they differentiated and
named? 6 Marks
b) The Fig below shows a typical ISDN setup.
(i) Explain the terms: TE1, TE2, TA, NT1 and NT2. 5 Marks
(ii) State TWO disadvantages of ISDN as a WAN design solution. 2 Marks
(iii) State THREE benefits of bringing digital connectivity through ISDN to the local
site. 3 Marks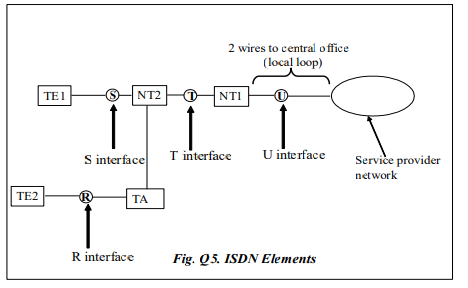 Fig. Q5. ISDN Elements
(Visited 29 times, 1 visits today)