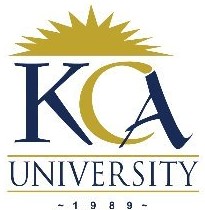 UNIVERSITY EXAMINATIONS: 2018/2019
EXAMINATION FOR THE DEGREE OF BACHELOR OF SCIENCE IN
INFORMATION TECHNOLOGY
BIT 2305: ICT PROJECT MANAGEMENT/ BBIT 204: IT PROJECT
MANAGEMENT/BAC
FULL TIME/PART TIME/DISTANCE LEARNING
DATE: APRIL, 2019 TIME: 2 HOURS
INSTRUCTIONS: Answer Question One & ANY OTHER TWO questions.
QUESTION ONE (Compulsory)
a) The success of an IT project is often judged on its closeness to the originally agreed
scope, cost and duration.
i) What is the difference between project and business success? (2 Marks)
ii) Give TWO common project success criteria (2Marks)
b) Suggest TWO reasons why it is considered that accurate estimating for IS projects is
difficult. (4Marks)
c) Explain how you would use a Work Breakdown Structure to develop an estimate
showing effort and cost, for a Project. (4 Marks)
d) Describe FOUR differences between "management" and "leadership". (4Marks)
e) If the scope of a project increases, what decisions would a project manager have to
consider about the other elements of the Project Triangle? (4Marks)
f) The dependencies between 12 tasks are listed below:
B depends on A
C, E, H and J all depend on B
D depends on C
F depends on D and E
G depends on E
I depends on H
K depends on F, I and J
L depends on G and K
Draw the network, (6 Marks)
g) Draw a work breakdown structure for the manufacture of a bicycle. Limit the size to four
levels of detail (4 Marks)
QUESTION TWO
a) You have been appointed as project manager for a successful company creating online
training courses. The software infrastructure for the company is crucial to its future growth.
Until recently the company has outsourced its software development work to a number of
consultants. Your appointment represents a decision to carry out all future development inhouse. You have been asked to recruit four other people to create a team that will be
responsible for identifying business opportunities and developing the IT infrastructure to
support the company. Identify a role for EACH of the FOUR people you will recruit. This
will include a job title, a brief description of the role and the skills required to fulfil it
(10 Marks)
b) Using examples, explain the project management techniques that could be used to:
(6 Marks)
record the activities required for a given IT project and how they are broken down;
record the dependencies between the activities required for a given IT project, and how
such relationships affect the overall timescale of a project;
record the schedule of activities for an IT project and the staff resources required to
undertake such activities.
c) Describe the purpose of the following activities in project management (4 Marks)
i. Communication management
ii. Conflict management
QUESTION THREE
a)
Activity Optimistic time Most likely time Pessimistic time Immediate
predecessor
activities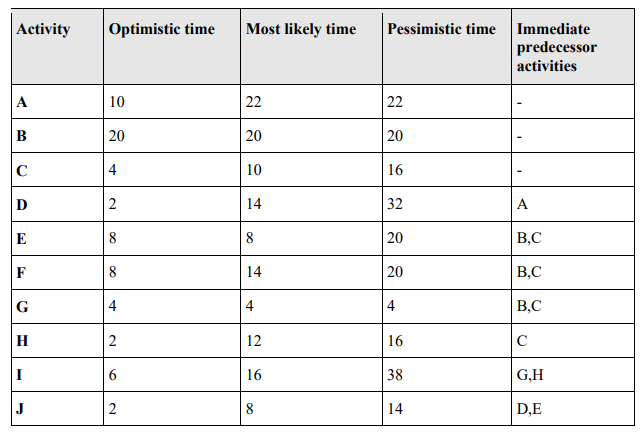 i) Construct the project network and calculate the forward and backward pass. (5Marks)
ii) Find the expected duration and the variance of each activity. (8 Marks)
iii) Find the critical path and the expected project completion time. (2 Marks)
b) Compare and contrast network techniques and Gantt charts (5 Marks)
QUESTION FOUR
a) Cost monitoring is used in project progress monitoring and control. In relation to project
monitoring explain the following terms and their respective formulaes:
i) Planned Value (PV) (2 Marks)
ii) Actual Cost (AC) (2 Marks)
iii) Schedule Performance Indicator (SPI) (2 Marks)
iv) Earned Value (EV) (2 Marks)
b) Scope Creep is of considerable concern on many IT projects as it has the potential to lead
to less than satisfactory project outcomes. Most IT project managers are keenly aware of
the need to manage scope creep well and employ a range of techniques to this end.
i) Describe what is meant by Scope Creep and explain how it can lead to unsatisfactory
outcomes on an IT project. (4 Marks)
ii) Describe two techniques that an IT project manager could use to minimise the
likelihood of Scope Creep on their project. Use examples to illustrate how each of these
techniques would work. (4 Marks)
iii) Discuss whether software development projects are more susceptible to Scope Creep
than other types of projects. Make sure you explain your reasoning. (4 Marks)
QUESTION FIVE
a) Assume that the size of an organic type software product has been estimated to be 40,000 lines
of source code. Assume that the average salary of software engineers be ksh. 10,000/- per month.
Determine the effort required to develop the software product , the nominal development time
and cost. (10 Marks)



b) IT project managers can employ a number of management styles. Two such styles are known
as "autocratic", which is often preferable when most of the project staff are new to a project,
and "democratic", where most of the project staff are more experienced and are able to
contribute to the decision-making process. Discuss the advantages and disadvantages of each
of these styles.
(5 Marks)
c) An IT project has been running well for 6 months. The IT project manager then notices a
decrease in the efficiency and performance of the project team. Describe the steps they could
take to deal with this situation.
(5 Marks)
(Visited 61 times, 1 visits today)