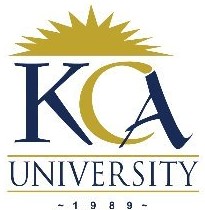 UNIVERSITY EXAMINATIONS: 2018/2019
EXAMINATION FOR THE DEGREE OF BACHELOR OF SCIENCE IN
INFORMATION TECHNOLOGY
BIT1309 FINANCIAL MANAGEMENT FOR IT
FULL TIME/PART TIME/DISTANCE LEARNING
DATE: APRIL 2019 TIME 2 HOURS
INSTRUCTIONS: Answer Question One and ANY OTHER TWO
questions
QUESTION ONE (30 MARKS)
The following balances are taken from the books of George Anderson at the end of his first
year trading on 31 December 2018.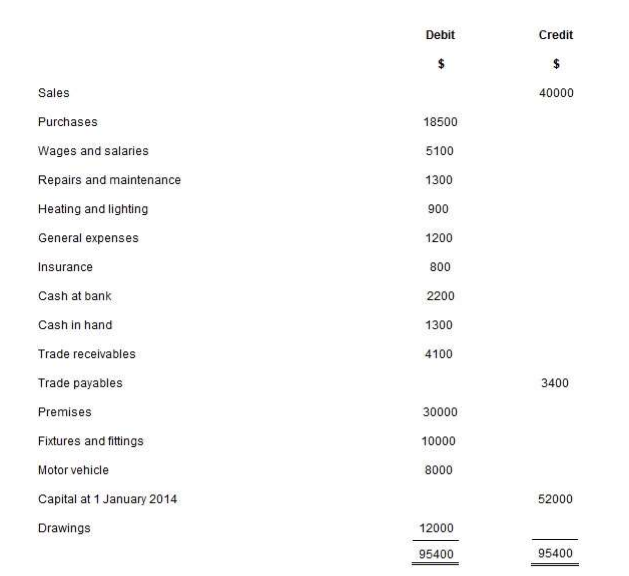 The following additional information is available:
Inventory at 31 December 2014 was valued at Kshs4500.
Required:
(a) Prepare income statement for the year ended 31 December 2018. (10 Marks)
(b) Prepare a statement of financial position as at 31 December 2018. (10 Marks)
(c) Discuss five specific users of accounting information. (10 Marks)
QUESTION TWO (20 MARKS)
a) From the following transactions prepare a two column cash book and post entries
therefore to ledger accounts. (12 Marks)
Year: 2019
Jan. 01: Opening balance of cash Kshs4,500.
Jan. 03: Received cash from R & Co. Kshs3,880 and allowed them a discount of Kshs20.
Jan. 05: Paid cash to H & Co. Kshs3,590 and received a discount of Kshs10.
Jan. 07: Merchandise purchased for cash Kshs940.
Jan. 09: Received interest on investment Kshs365.
Jan. 12: Purchased machinery for cash Kshs4,100.
Jan. 15: Cash sales for the first half of the month Kshs6,500.
Jan. 17: Paid cash for stationary Kshs635.
Jan. 20: Paid for office furniture Kshs710.
Jan. 21: Paid to H & Co. Kshs970 and received a cash discount of Kshs30.
Jan. 28: Cash received from R & Co. Kshs670 and allowed them a discount of Kshs30.
Jan. 31: Cash sales for the second half of the month Kshs7,600.
Jan. 31: Paid for salaries Kshs1,250.
b) Discuss components of internal control system. (8 Marks)
QUESTION THREE (20 MARKS)
a) Accounting is universally applicable irrespective of the type of business and or
organisation. Identify and explain any FIVE accounting principles that ensures
standardization in accounting practise. (10 Marks)
b) Discuss FIVE accounting errors and how they can be corrected in the pursuit of
ensuring accuracy in accounting information. (10 Marks)
QUESTION FOUR (20 MARKS)
a) Creative Advertising, owned by Miss Abida Masood, provides advertising consulting
services. During January 2019, the following events occurred:
Jan. 2 Owner contributed Rs. 50,000 and a new computer costing Rs. 20,500 to start her
business.
Jan. 4 Office supplies were purchased on account for Rs. 4,000.
Jan. 10 Creative Advertising obtained 12% 5-year loan of Rs. 20,000 from the bank.
Jan. 12 Creative Advertising paid the utility bills for Rs. 2,750.
Jan. 15 Paid the Rs. 3,000 in Accounts Payable from the purchase of office supplies on Jan.
4.
Jan. 24 Advertising services completed in January were billed to clients Annies' Flowers at
Rs. 18,300.
Jan. 27 Creative Advertising received Rs. 5,500 from Annies' Flowers, a client, as payment
on account.
Jan. 30 Miss Abida Masood withdrew Rs. 6,000 of cash for personal use.
Requirement: You are required to prepare general ledger account and make a trial balance
(15 Marks)
b) The elements of financial statements are the general groupings of line items contained
within the statements. Identify and explain any five of such elements of financial
statements. (5 Marks)
QUESTION FIVE (20 MARKS)
a) Define books of prime entry. (2Marks)
b) Identify and state the use of any SIX books of prime entry (3Marks)
c) Discuss the causes of depreciation. (3 Marks)
d) Prepare general journal entries for the following transactions of a business called Pose
for Pics in 2018: (12 Marks)
Aug. 1: Hashim Khan, the owner, invested Kshs. 57,500 cash and Kshs. 32,500 of
photography equipment in the business.
04: Paid Kshs. 3,000 cash for an insurance policy.
07: Services are performed and clients are billed for Kshs. 10,000.
13: Purchased office supplies for Kshs. 1,400. Cash paid Kshs. 400 and remaining
outstanding.
20: Received Kshs. 2,000 cash in photography fees earned.
24: The client immediately pays Kshs. 15,000 for services to be performed at a later
date.
29: The business acquires photography equipment. The purchase price is Kshs.
100,000.
(Visited 35 times, 1 visits today)