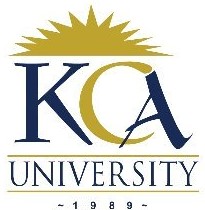 UNIVERSITY EXAMINATIONS: 2013/2014
ORDINARY EXAMINATION FOR THE BACHELOR OF SCIENCE
IN INFORMATION TECHNOLOGY
BIT 2311 NETWORKS SYSTEMS DESIGN AND MANAGEMENT
DATE: AUGUST, 2014 TIME: 2 HOURS
INSTRUCTIONS: Answer Question ONE and any other TWO
QUESTION ONE
a) The process by which a TCP/IP host sends data can be viewed as a five-step
process.. Briefly describe these steps. (5 Marks)
b) Define the following terminologies as used in computer networks:
(i) Routing (1 Mark)
(ii) Logical addressing (1 Mark)
(iii) Routing protocol (1 Mark)
(iv) Distortion (1 Mark)
(v) Attenuation (1 Mark)
c) (i) When is it necessary to use a public IP address on a routing interface?
(1 Mark)
(ii) The network administrator has asked you to check the status of the
workstation's IP stack by pinging the loopback address. Which address
would you ping to perform this task? (1 Mark)
(iii) Which command is used to see the path taken by packets across an IP
network? (1 Mark)
d) Describe the steps you would follow when designing or modifying the KCAU
WAN. (6 Marks)
e) Discuss the following concepts as used in LANs:
(i) Symmetric Switching (3 Marks)
(ii) Asymmetric Switching (3 Marks)
f) (i) When a host transmits data across a network to another host, which process
does the data go through? 1 Mark
(ii) Study the diagram below carefully.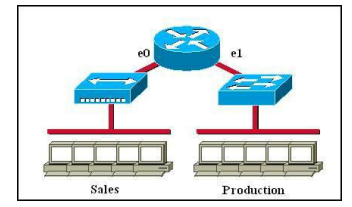 How many collision domains and broadcast domains can you identify? (2 Marks)
(iii) Refer to the exhibit. A network engineer is troubleshooting an internet connectivity
problem on the computer. What is causing the problem? Explain. (2 Marks)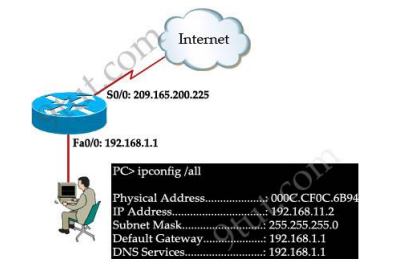 QUESTION TWO
a) Explain any five routing metrics used by routing protocols to determine the best
path for a packet. (5 Marks)
b) Discuss the stages involved when gathering symptoms for a network problem.
(5 Marks)
c) Discuss the following software troubleshooting tools:
(i) NMS tools (3 Marks)
(ii) Protocol Analyzers (3 Marks)
d) List four motivations for using VLANs in a switched LAN. (4 Marks)
QUESTION THREE
a) In what ways can network managers enhance availability and reliability of their
networks? (6 Marks)
b) Discuss in detail the three steps followed in establishing a network baseline.
(6 Marks)
c) Explain the following :
(i) Storage Area Networks (SAN). (2 Marks)
(ii) Virtual Private Network (VPN). (2 Marks)
(iii) 10BASE5. (2 Marks)
(iv) 10BASE-T (2 Marks)
QUESTION FOUR
a) You are a systems administrator and you are about to assign static IP addresses to
various servers on your network. For the network 192.168.20.24/29 the router is
assigned to the first usable host address, while the last usable host address goes to
your Sales server. Which address would you use for the router, the Sales server
and the subnet broadcast? (6 Marks)
b) Continuity strategies and tactics should be devised in light of well-defined
mission goals. Outline any three objectives to be followed when conducting
network continuity planning in order to avoid superfluous or unwanted outcomes.
(6 Marks)
c) State the functions of any six of the most widely known and implemented TCP/IP
application layer protocols. (6 Marks)
d) Why is it difficulty for some organizations to make a decision to move towards
converged networks? (2 Marks)
QUESTION FIVE
A company has considered creating a network for their complex that has just been
completed. The building is composed of five floors including the ground floor. You have
been tasked to be the designer of this network which will later be connected to the rest of
the company network. It is assumed that you will base your design on Ethernet and all the
floors will be cabled. It is further assumed that each floor will have approximately 200
computers. On each floor, there will be administrative computers which must be
separated from the student computers.
a) Describe four goals that are common to any network design. (4 Marks)
b) (i) What is the minimum number of wiring closets you would create for this
particular network? (1 Mark)
(ii) Where would you place your MDF and why? (2 Marks )
(iii) What would be the minimum number of 24-port switches you will use for
this network? (2 Marks)
c) Assuming that the average UTP cable run for each computer is 40 metres. How
many reels of UTP cable would you require for wiring the whole building? Show
your working. (N.B. Assume that the length of one reel of UTP cable is 300m.)
(5 Marks)
d) Suppose the network you were to design was not for the company but for a home.
Home networking has some fundamentally different properties than other network
types. Describe briefly six of these properties. (6 Marks)
(Visited 113 times, 1 visits today)