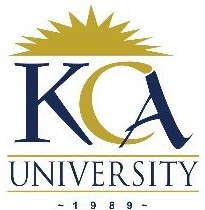 UNIVERSITY EXAMINATIONS: 2020/2021
EXAMINATION FOR THE DEGREE OF BACHELOR OF SCIENCE IN
INFORMATION TECHNOLOGY/ BUSINESS INFORMATION
TECHNOLOGY/ APPLIED COMPUTING/ SOFTWARE DEVELOPMENT/
INFORMATION SECURITY & FORENSCIS
BIT 2209/ KCA 300/ BISF 1305/ BSD 1302/BAC 1305: RESEARCH SKILLS
AND DESIGN/ RESEARCH METHODOLOGY
FULL TIME/PART TIME/DISTANCE LEARNING
DATE: DECEMBER, 2021 TIME: 3 HOURS
INSTRUCTIONS: Answer ALL Questions
QUESTION 1: 20 MARKS (COMPULSORY)
a) The research process requires the principle problem to be divided into sub problems for
manageability. Discuss four characteristics of sub-problems. 4 Marks
b) Differentiate between null hypothesis and alternative hypothesis. 2 Marks
c) Describe the following documents written during the research process. 2 Marks
i. Research proposal
ii. Research report
d) In your own view describe four roles served by carrying out Literature Review in the process
of research. 4 Marks
e) Data collection is a planned activity that requires the researcher to answer four important
questions about the data. Discuss the questions as well as provide the answers to the questions.
4 Marks
f) Describe the following sampling techniques stating when each is applicable
4 Marks
i. Systematic sampling
ii. Cluster sampling
QUESTION 2:15 MARKS
a) Some common problems in research proposals are related to the design and methodology of
the research project. Discuss any three of such problems.
3 Marks
b) Giving examples differentiate between structured and unstructured questions.
2 Marks
a) Describe the following types of research indicating when it is appropriate to them.
4 Marks
i. Survey
ii. Case study
b) Describe what is contained in the following sections of the research proposal
2 Marks
i. Operational definition.
ii. Delimitation
c) Discuss four ethical issues that you would put in consideration when gathering data from
human subjects 4 Marks
QUESTION 3: 15 MARKS
a) Read and understand the frequency table below, then answer the questions that follow
Score (x)        Frequency (f)
10                         1
20                          2
35                          3
40                        3
45                           4
50                           7
60                           6
80                            4
i. Complete the table so that you will be able to do part (ii) through (iv)
4 Marks
ii. Calculate the mean 2 Marks
iii. Calculate the variance 2 Marks
iv. Calculate the standard deviation 2 Marks
b) The table below shows the means of Marks for the units indicated for the three trimester's
examinations for the academic years 2010 and 2011 respectively. Study it and answer the
question that follows.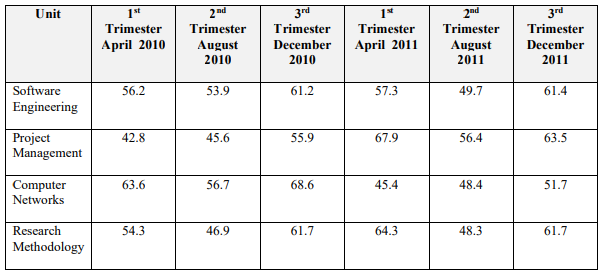 Required: Draw a bar chart to show the comparisons of unit performance between the same
trimesters in the two academic years 5 Marks
QUESTION 4: 15 MARKS
a) Otieno is a third year student in KCAU. He has difficulty finding a legitimate problem for
research. He has come to you for advice. Discuss four pieces of advice you would over him
about where or how can he get started? 4 Marks
b) Define the term "Data Interpretation" giving three reasons why you think it is important to
interpret data. 3 Marks
c) Differentiate between the following
i. Primary data and secondary data 2 Marks
ii. Qualitative research and quantitative research 2 Marks
d) Name and describe two tools used in the interview method of data collection.
4 Marks
(Visited 62 times, 1 visits today)