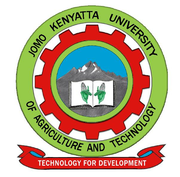 W1-2-60-1-6
JOMO KENYATTA UNIVERSITY OF AGRICULTURE AND TECHNOLOGY
University Examinations 2015/2016
YEAR III/IV SEMESTER 1/II EXAMINATION FOR THE DEGREE OF BACHELOR OF INFORMATION TECHNOLOGY
BIT 2119: MANAGEMENT INFORMATION SYSTEMS
DATE: AUGUST, 2016 TIME: 2 HOURS
INSTRUCTIONS: Answer Question ONE and Any Other TWO Questions.
Question One – 30 Marks
a) Explain the logic of building information systems in accordance with the organization's hierarchical structure? [5 marks]
b) Describe information technology under the following headings.
i. Strategic weapon
ii. Survival tool [8 marks]
c) Explain how office automation system (OAS), functional area information system (FAIS) and decision support systems (DSS) can support multiple levels of the organization? [12 marks]
d) Describe five strategies that companies can use to achieve competitive advantage in their industries? [5 marks]
Question Two – 20 Marks
Describe portions competitive forces model and explain how it helps companies improve their
competitive position. [20 marks]
Question Three – 20 Marks
a) Describe the components of computer-based information systems. [10 marks]
b) Distinguish between MIS and DSS in an organization. [10 marks]
Question Four – 20 Marks
Characterize each of the following systems as one or more of IT support systems.
a) A student registration system in a university
b) A system that advises physicians about which antibiotics to use for a particular infection.
c) A patient-admission system in a hospital
d) A system that provides a human resource manager with report regarding employee compensation by year or service.
e) A robotic system that paints cars in a factory. [20 marks]
Question Five – 20 Marks
Explain reasons why some information systems fail. [20 marks]
(Visited 558 times, 9 visits today)