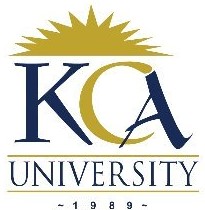 UNIVERSITY EXAMINATIONS: 2014/2015
ORDINARY EXAMINATION FOR THE BACHELOR OF SCIENCE
IN INFORMATION TECHNOLOGY
BIT 1309 FINANCIAL MANAGEMENT FOR IT
DATE: APRIL, 2015 TIME: 2 HOURS
INSTRUCTIONS: Answer Question ONE and any other TWO
QUESTION ONE
State which accounting concepts are applicable or should be followed in the following
situations, giving your reasons for the concept chosen:
a) A company which depends entirely on imported raw materials has been operating on a
large overdraft. The non-availability of foreign exchange has made importations difficult
and the bankers have also refused to consider further overdraft facilities. The directors
are therefore concerned about the future success of the company and have asked the
accountant to estimate how much the company's assets are worth. (3 marks)
b) A company's stock valuation basis has been the lower of cost and net realizable value
since its inception some ten years ago. Due to high rate of inflation some of the
shareholders suggest that last-in, first-out basis of stock valuation be used. (3 marks)
c) The Managing director of a company earns a commission based on turnover. The
amount of commission payable in respect of the year ended 31st December 1992 was
paid in February 1993. No entry relating to the above commission had been made in the
books as at 31st December 1992 which is the year ended for the company. (3 marks)
d) A contractor has estimated that a loss of Kshs.2 million will be incurred by the end of a
contract whose completion is expected by 31st December 1993. The contractor's
accounts are prepared to 30th June of every year. (3 marks)
Fill the gaps in the following question. (8 marks)
Account to
be debited
Account to
be credited
Bought office machinery on credit from D Isaacs Ltd
The proprietor paid a creditor, C Jones, from his
private monies outside the firm.
A debtor, N Fox, paid us in cash
Repaid part of loan from P Exeter by cheque
Returned some of office machinery to D Isaacs Ltd.
A debtor, N Lyn, pays us by cheque.
Bought van by cash
c) Explain five benefits that accrue to an IT practitioner frrm the knowledge of financial
accounting. (10 Marks)
QUESTION TWO
The following categories of people are recognized as users of the information contained in
financial statements:
 Owners
 Financial analysts
 Lenders
For each of the above users of financial statements, identify the kind of information they
may required, why they require it and the decisions they made from that information.
(9 marks)
B Mann has the following purchases for the month of May 19X8: All purchases were
made on cash.



Required
a) Prepare the purchases account
b) Cash account
(11 marks)
QUESTION THREE
A business started trading on 1st January 2012. During the two years ended 31st December
2013the following debts were written off to bad debts account on the dates stated:
31st August 2012 N. Jane Kshs. 8,500
30th September 2012 M. Ann Kshs.14,000
28th February 2013 N. Mary Kshs.18,000
31st August 2013 J. Susan Kshs. 6,000
30th November 2012 A. Alice Kshs.25,000
On 31st December 2012 there had been a total of debtors remaining of Kshs.4,050,000. It
was decided to make a provision for doubtful debts of Kshs.55,000.
On 31st December 2013 there had been a total of debtors remaining of Kshs.4,730,000. It
was decided to make a provision for doubtful debts of Shs.60,000
You are required to show:
a) The bad debts account and the provision for bad debts account for each of the two
years. (6 marks)
b) The charges to the profit and loss account for each of the two years. (4 marks)
c) The relevant extracts from the balance sheet as at 31st December 2012 and 2013
(10 marks)
QUESTION FOUR
You are to enter up the necessary accounts for the month of June from the following
details, and then balance off the accounts and extract a trial balance as at 30th June 2014
June 1: Started firm with capital in cash Kshs.750
June 2: Bought goods on credit from F. Kamau Kshs.162, K. Musioka
Kshs.261, G.
Mutiso . Kshs.75, M. Kim 228 and F. Njoroge 192
June 4: Sold goods on credit to M. Coke Kshs.120, T. Big Kshs.186 and K.
Muigai Kshs.528
June 6: Paid rent by cash Kshs.36
June 9: M. Coke paid us his account by cheque Kshs.129
June 10: H. Muigai paid us Kshs.450 by cheque
June 12: We paid the following by cheque G. Mutiso Kshs.75, F.
Kamau Kshs.162
June 15: Paid carriage by cash Kshs.69
June 18: Bought goods on credit form K. Musioka Kshs.129, M.
Kim Kshs.330
June 21: Sold goods on credit to T. Big Kshs.201
June 30: Paid rent by cheque Kshs.54 (20 marks)
QUESTION FIVE
Write up the asset and liability and capital accounts to record the following transactions in
the records of G Powell. (20 marks)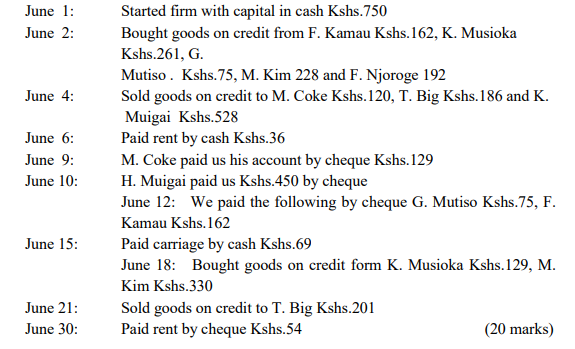 2015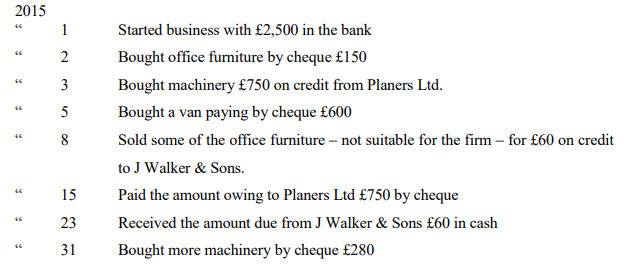 (Visited 74 times, 1 visits today)