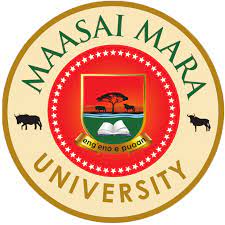 MAASAI MARA UNIVERSITY
REGULAR UNIVERSITY EXAMINATIONS 2013/2014 ACADEMIC YEAR
FOURTH YEAR SECOND SEMESTER
SCHOOL OF BUSINESS AND ECONOMICS
BACHELOR OF BUSINESS MANAGEMENT
COURSE CODE: BBM 403
COURSE TITLE: ADVANCED ACCOUNTING II
DATE:15TH APRIL 2014 TIME: 2.00PM – 5.00PM
INSTRUCTIONS TO CANDIDATES
SECTION A is compulsory
Answer any three questions in SECTION B
This paper consists of 5 printed pages. Please turn over.
QUESTION ONE 25 MARKS COMPULSORY
Dreamland Ltd, which had experienced trading difficulties, decided to reorganize its finances. On 31 December 2013 a final trial balance extracted from books showed the following position: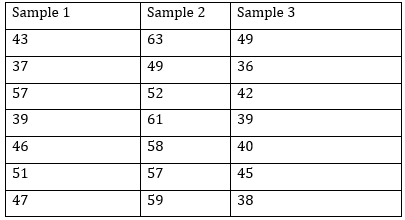 Approval of the court was obtained for the following scheme for reduction of capital:
1. The preference shares to be reduced to £0.75 per share.
2. The ordinary shares to be reduced to £0.125 per share.
3. One £0.125 ordinary share to be issued for each £1 of gross preference dividend arrears; the preference dividend had not been paid for three years.
4. The balance on share premium account to be utilized.
5. Plant and machinery to be written down to £75,000.
6. The retained profits and all intangible assets, to be written off.
At the same time as the resolution to reduce capital was passed, another resolution was approved restoring the total authorized capital to £350,000, consisting of 150,000 6% cumulative preference shares of £0.75 each and the balance in ordinary shares of £0.125 each. As soon as the above resolutions had been passed, 500,000 ordinary shares were issued at par, for cash, payable in full upon application.
You are required:
a) To show the journal entries necessary to record the above transactions in the company's books; and ( 18 Marks)
b) To prepare a balance sheet of the company, after completion of the scheme. (7 Marks)
QUESTION TWO
Grider Company's condensed income statement is presented below: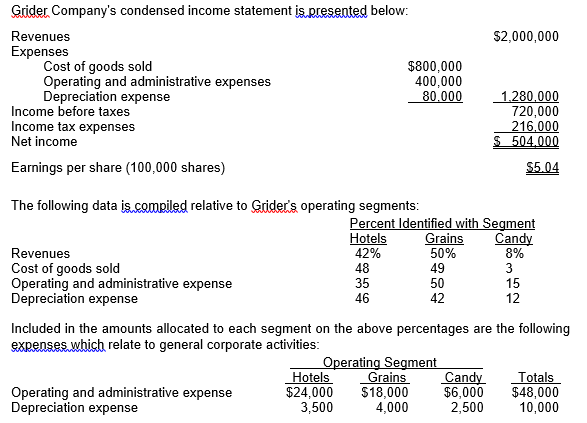 Included in the amounts allocated to each segment on the above percentages are the following expenses which relate to general corporate activities:
Operating Segment
Hotels Grains Candy Totals
Operating and administrative expense $24,000 $18,000 $6,000 $48,000
Depreciation expense 3,500 4,000 2,500 10,000
Required;
(a) Prepare a schedule showing the amounts distributed to each segment. ( 10 Marks)
(b) Based only on the above information, which segments must be reported and why?
(5 Marks)
QUESTION THREE
Explain clearly each of the following as regards Social Accounting;
a) Measurement of Social Progress ( 5 Marks)
b) Social Auditing and basis of its measurement ( 5 Marks)
c) Human Resource Accounting ( 5 Marks)
QUESTION FOUR
The following are the summary accounts of Overseas Ltd, in foreign currency (Limas):
Statement of Financial Position as at 31 December 2009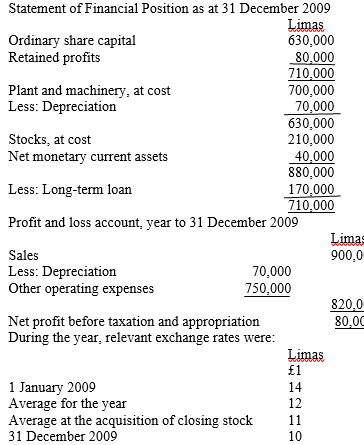 Your UK Company, Sterling Ltd, had acquired overseas Ltd, on January 2009 by subscribing £45,000 share capital in cash when the exchange rate was 14 Limas to the £1. The long term loan had been raised locally on the same data. On that day, overseas Ltd had purchased the plant and equipment for 700,000 Limas. It is being depreciated by the straight line method over 10 years.
Required:
Prepare the balance sheet and profit and loss account of overseas Ltd, in columnar form, in £s sterling, using:
a) The closing rate method, and (8 Marks)
b) The temporal method, and (7 Marks)
QUESTION FIVE
a) Explain each of the Limitations of Historical Cost Accounting ( 5 Marks)
The balance sheet for Cremore Ltd at 31 December is given below (£000):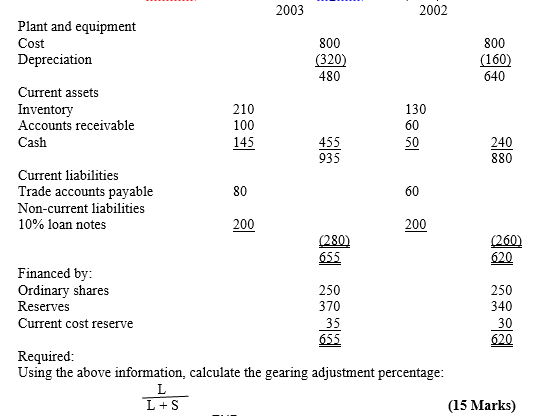 (Visited 18 times, 1 visits today)