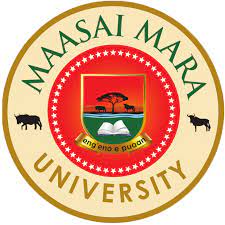 BBM 301 ADVANCED FINANCIAL ACCOUNTING SUPPLIMENTARY EXAM
INSTRUCTION
Answer all questions.
QUESTION ONE
a) Explain five dimerits of business combinations. (10 mks)
b) The Balance sheets of Milestone Inc. and its foreign subsidiary BH International as on 31.03.2005 were as follows: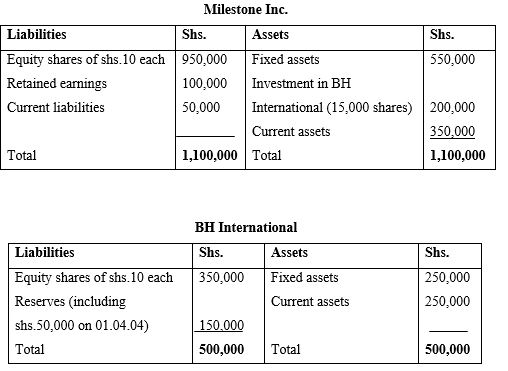 Requred:
Prepare a consolidated balance sheet under the one-line methods of consolidation (15 mks)
QUESTION TWO
Analysis of the books of account of OPC Ltd reveals the following for the year ended 31.03.2004.
Sales Kshs.11, 000,000 Cost of goods sold kshs. 600,000
Other expenses kshs. 140,000 Depreciation Kshs 60,000
Other relevant information obtained from the books are:
a) Fixed assets were purchased on 01.04.2003 at a prevailing general price index of 130
b) Goods were purchased in three lots of kshs. 200,000, kshs. 3000,000 and kshs. 150,000 with a corresponding price index of 130, 140 and 150.
c) There was no opening stock
d) Closing stock was valued at kshs. 50,000 on FIFO basis
e) Sales were made at a price index of 145. Expenses too were incurred at price index of 145.
f) Price index measured on 31st march 2004 was 150.
Required:
Prepare a price level adjusted income statement for OPC Ltd. (15mks)
QUESTION THREE
The following information is extracted from the books of Super Sales Ltd. For the year ended 31st December 2004.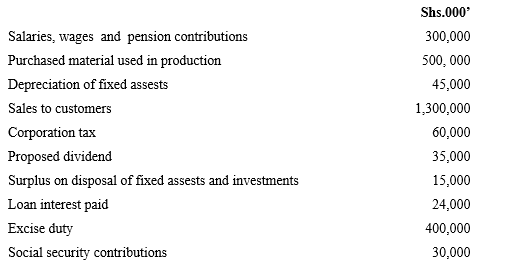 Required:
Prepare value added statement for the year ended 31st December 2004. (15mks)
(Visited 42 times, 1 visits today)