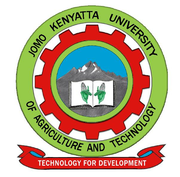 W1-2-60-1-6
JOMO KENYATTA UNIVERSITY
OF AGRICULTURE AND TECHNOLOGY
University Examinations 2012/2013
YEAR III SEMESTER V EXAMINATION FOR THE DIPLOMA IN ARCHITECTURE
ABA 0303: BUILDING SERVICES II
DATE: AUGUST 2012 TIME: 1½ HOURS
INSTRUCTIONS: ANSWER QUESTION ONE (COMPULSORY) AND ANY OTHER TWO QUESTIONS
QUESTION 1
a) i) Sketch a labeled circuit diagram to illustrate the component parts
which constitute a complete active electric circuit.
ii) Outline the basic function for each of the component parts for Q (a)(13 marks)
b) i) State Ohm's Law as applied to an active complete circuit.
ii) Fig I represents an active network energized by a 15V battery.
Determine the branch currents and voltage drops if the voltage
drop across the 2Ω resitance is 2Vand the power dissipated in the 4Ω resistor
is 16W as well as the values of resistor R1 and R2 resistors. (17 marks)
QUESTION 2
Fig.2 illustrates the sketch of a typical house with luminaires in their approximate locations. Re-sketch the layout and:
a) Indicate on the sketch the appropriate switches and their approximate locations.(14 marks)
b) For the sitting room, corridor, wet areas and bedroom, draw individual labeled
circuit diagrams to illustrate the switching arrangement and the
respective controls. (6 marks)
QUESTION 3
a) State the differences between a Consumer's Unit and a Distribution Board as
used in electrical services in buildings. (5 marks)
b) Draw a labeled block diagram to illustrate the sequential connections of
the principal component parts associated with the consumer's intake points.(15 marks)
QUESTION 4
Draw labeled diagram to illustrate the electrical connections for:
a) i) 1 No. 13A switched twin socket-outlet incorporating neon indicator lamps.
ii) The two types of intermediate one – gang single-pole switches. (7 marks)
b) 5 No. 13A unswitched socket –outlets installed as a ring-circuit incorporating
4No. spurs in the form of socket-outlets. (13 marks)
QUESTION 5
a) State the component parts which constitute the:
i) Basic cable
ii) Enhanced cable (5 marks)
b) Draw labeled diagram to illustrate the difference between:
i) One-core basic cable and one-core enhanced cable
ii) Two –core PVC enhanced cable and two-core PVC mineral
insulated metal sheathed cable (9 marks)
c) i) Draw basic sketches to illustrate the 5No. typical 20mm PVC conduit boxes.
ii) State the basic function of the 20mm PVC conduits. (6 marks)
(Visited 72 times, 1 visits today)