INTEGRATED SUPPLY LOGISTICS   
Logistics is the management of the flow of goods and services between the point of origin and the point of consumption in order to meet the requirements of customers. Logistics involves the integration of information, transportation, inventory, warehousing, material handling, and packaging, and often security. Logistics is a channel of the supply chain which adds the value of time and place utility. Today the complexity of production logistics can be modeled, analyzed, visualized and optimized by plant simulation software.
Logistics is considered to have originated in the military's need to supply themselves with arms, ammunition and rations as they moved from their base to a forward position. The Oxford English Dictionary defines logistics as "the branch of military science relating to procuring, maintaining and transporting materiel, personnel and facilities." Another dictionary definition is "the time-related positioning of resources." As such, logistics is commonly seen as a branch of engineering that creates "people systems" rather than "machine systems". When talking in terms of human resources management, logistics means giving inputs, i.e. "recruiting manpowers", which ultimately work for the final consumer or to delivery. 9
Logistics Management
This refers to the process of strategically managing the acquisition, movement and storage of material, parts and finished inventory through an organization and its marketing channels to fulfill orders most cost-effectively. Logistics does add value and can play a vital role in the organization's profitability. However, only by linking all logistics activities directly to the organizations strategic plan can it be useful in supporting the organization's strategy for achieving competitive advantage. Procurement is thus a supporting activity in logistics which should be properly handled to enable firm's improve cash flow, open new territories, introduce new products etc.
Components of a logistics system include the following:
The two key components of a logistics system are:
Transportation
Physical Distribution
Other components of a logistics system include the following:
-Customer service
-Inventory Management
-Storage and Materials Handling
-Packaging
-Information Processing
-Demand Forecasting
-Production Planninng
Types of Logistics
Event Logistics – The network of activities, facilities and personnel required to organize, schedule and deploy resources for an event to take place. 111
Service Logistics – The acquisition, scheduling, and management of facilities personnel and material to support and sustain a service operation or business.
Business Logistics – It is the part of the Supply Chain process that plans, implements, and controls the efficient flow and storage of goods and services from point of origin to point of use or consumption.
Military Logistics – This is the design and integration of all aspects of support for the operational capability of the military forces and their equipments to ensure readiness, reliability and efficiency in war and other military operations.
Reverse logistics Stands for all operations related to the reuse of products and materials. It is "the process of planning, implementing, and controlling the efficient, cost effective flow of raw materials, in-process inventory, finished goods and related information from the point of consumption to the point of origin for the purpose of recapturing value or proper disposal. An example is the recycling of bottles by soft drinks manufacturing companies.
Third party Logistics –"A firm that provides multiple logistics services for use by customers. Preferably, these services are integrated, or "bundled" together, by the provider. Among the services are transportation, warehousing, cross-docking, inventory management, packaging, and freight forwarding." (Council of Supply Chain Management Professionals') an example is Transami, DHL and G ansami, DHL and G4S.
7.Fourth Party Logistics – An arrangement in which a firm contracts out (outsources) its logistical operations to two or more specialist firms (the third party logistics) and hires another specialist firm (the fourth party) to coordinate the activities of the third parties. A fourth-party logistics provider is a consulting firm specialized in logistics, transportation, and management e.g. Deloitte and Price water house coopers
Objectives of Logistics Management:
-To make available the right quantity of quality products at the right place and time in the right condition.
-To offer the best service to consumers.
-To minimize the cost of operations.
-To maintain transparency in operations.
Functions of Logistics Management
-Ordering, billing/invoicing, handling and packaging
-Product assembly and storage, warehousing and material handling
-Product shipping by air, railways, waterways, pipelines, and containers.
-Product export, import, documentation, marking and consolidation.
-Product tracing, tracking, recycling and disposal.
-Setting of customer service standards in terms of time, availability and errors.
INBOUND, OUT BOUND AND INTERNAL LOGISTICS
A key consideration in the examination and development of a logistics strategy is the Value Chain Concept (Porter 1985). The value chain provides a framework for examining interdependencies within logistics; between logistics and other areas of the firm; and between the firm, its suppliers, and customers and is focused on eliminating non-value adding activities in the supply chain. 113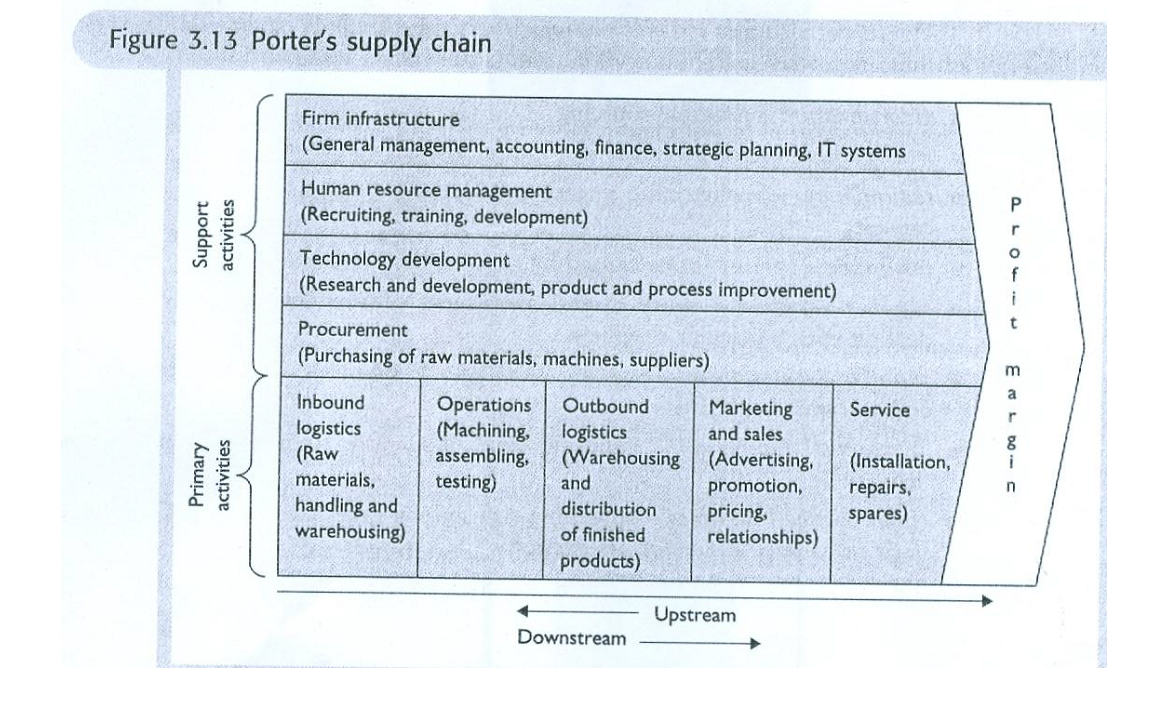 An organization can also develop a logistics strategy by looking at four distinct levels of their organization. That is, Strategic, which reflects the overall organization's corporate objectives, Structural, the physical elements of logistics like warehousing, distribution centre's or operations within the manufacturing plant, Functional, this involves a strategic review of how each function in the logistics system is to achieve functional excellence and Implementation, this will include configuration of an information system, introduction of new policies and procedures and the development of a c
IMPORTANCE OF INTEGRATED LOGISTICS
Relationship between the purchasing and supply function with other departments:
Some issues on which interaction and cooperation may take place between purchasing and other company
CONCEPT OF TOTAL COST AND TRADE OFFS
members of the organisation. Organisation design and structure is concerned with such elements as:
set goals.
ADDED VALUE CONCEPT IN SUPPLY LOGISTICS
members of the organisation. Organisation design and structure is concerned with such elements as:
set goals.
(Visited 14 times, 1 visits today)